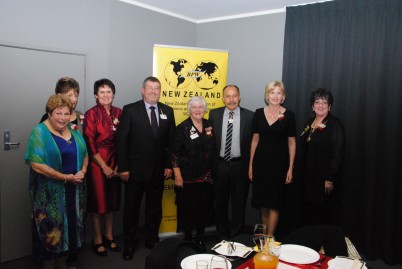 To view more images, click here
E kui mā, e koro mā, e huihui nei, tēnei aku mihi māhana ki a koutou. Kia ora tātou katoa. Ladies and gentlemen, warm greetings to you all. I specifically acknowledge: Jan Shands, President of the Huntly and Districts' Business and Professional Women's Club; Carolyn Savage, National President of the New Zealand Federation of Business and Professional Women; and Your Worship Alan Sanson, Mayor of the Waikato District – tēnā koutou katoa.
Thank you for inviting me and Janine to the Huntly Power Station for this Huntly and Districts' Business and Professional Women's Club 40th anniversary dinner. Throughout my life and career I've eaten meals in some interesting places, everywhere from the jungles of South East Asia to the cold of Antarctica, and in Afghanistan and Southern Lebanon through to the palaces of Heads of State. However, this is the first time I have had dinner at a power station! Now given that it's a thermal power station, I guess we can be assured that our meals will be well cooked!
Seriously, however, it's great to be here and to join with you as your club celebrates its 40th anniversary. At this point, I want to acknowledge Audrey Harris, who I understand is one of only two foundation members here tonight. Audrey's community service was recognised when she was awarded the QSO in 1995. As a former National President and now Life Member of the New Zealand Federation of Business and Professional Women, Audrey epitomises the contribution women have made, and are making, to our country. I also want to acknowledge the other foundation member here tonight, Marion Nicholas, who was Club president in the late 1970s.
This evening, I want to speak about why we, Janine and I, are here – both in the Waikato and at this dinner - and the significance of clubs like yours and the anniversary we are marking tonight.
Janine and I are making a four-day visit to the Waikato – one of our regional tours. We make these regional visits because they are an important part of my role as Governor-General: connecting with people in our communities and celebrating the things that we as New Zealanders value – service to others, our young people, enterprise, volunteering and excellence.
This morning, we opened a new learning centre at Whitiora School in Hamilton. At Whitiora School, I also spoke to a group of Years 6, 7 and 8 about leadership – all part of the Sir Peter Blake Trust Dream Team initiative. Later, we met the region's local mayors at, and toured, Zealong Tea Planation.
Tomorrow we're meeting with the Mayors Taskforce for Jobs Youth Initiative in Otorohanga before attending a fundraising dinner for the Child Cancer Foundation in Hamilton. Over the following two days, we're visiting two primary industry training organisations based at Windsor Park Stud and a dairy farm; attending a reception for women in business organised by the entrepreneurship hub SODA; and visiting the WISE Group of charities.
As you may have noted from the flavour of the events I've listed, this visit has a particular focus on women, and youth and enterprise. We've taken that focus because while a lot of what we do revolves around my constitutional, ceremonial and international roles – for example, signing laws, opening Parliament and representing New Zealand abroad – 80 per cent of my role involves providing community leadership, both in the good times and the sad times.
Being here in Huntly tonight to mark the 40th anniversary of your Club is one of those good times. Indeed, it seems to be the season for marking good anniversaries. Last month we marked Matariki – New Zealand's New Year. We also marked the Diamond Jubilee of the Coronation of Her Majesty Queen Elizabeth II as our Head of State and the year before the Diamond Jubilee of her Accession to the throne on 6 February 1952, which of course is Waitangi Day.
As an aside, Her Majesty – and indeed the whole world – is eagerly awaiting another important occasion, namely the birth of her latest great-grandchild. Our thoughts are with the Duchess of Cambridge and Prince William, and their families at this time.
This year also marks another important anniversary that is particularly relevant to this audience. This year marks the 120th anniversary of New Zealand becoming the first nation in the world to grant women the right to vote in national elections.
Like all major social changes, women's suffrage was not won by individuals idly waiting for a Parliament of men to consider the issue. It was won by women, and men, who created organisations to lobby for change, most notably the Woman's Christian Temperance Union. From 1887, its suffrage campaign was led by Kate Sheppard. She was, as historian – and might add long-time BPW Dunedin member – Dr Dorothy Page noted as: "an ideal leader, a woman without sectarian narrowness, characterised by judgement, tolerance and charm." Kate Sheppard, whose image graces our $10 note, went on to become the first President of the National Council of Women in 1896.
Other women-focused organisations followed. Some promote the health and wellbeing of women and families. Others lobby for social and legal changes. Some do work at a national level, others on a regional or local scale. Some work in an urban setting, others in rural and provincial areas. Regardless of the setting, they all have an overriding focus on improving the lives of women, advocating for their needs and empowering them to achieve. And in doing so makes New Zealand a better place for women and men, girls and boys!
Since 1939, the Federation of Business and Professional Women in New Zealand has been one of those national organisations that has advocated for positive change. Having evolved out of the YWCA movement, which itself was established in Dunedin in 1878, BPW clubs have been established throughout New Zealand with the vision of "achieving a just and equal status for women in all levels and areas of society where decisions are taken in true partnership with men, based on mutual respect, for a more balanced and peaceful world". Next year marks the 75th anniversary of BPW, so I imagine planning for those celebrations is well underway.
In offering mentoring and courses in personal development, advocacy, marketing and many other areas as well as providing companionship for its members the BPW national and international federations are making a difference. They are developing the professional and leadership potential of women throughout New Zealand and the world. They are enabling, empowering and inspiring women.
I am aware that the Huntly and Districts Club has been at the forefront of those efforts, and is recognised as a leader since its establishment in 1973. I commend the club on last year being named New Zealand Club of the Year, and for receiving the community achievement award four years in a row. The way this club has done its business, including mentoring senior girls at college on presenting themselves in interviews, raising funds for the Huntly Library and Huntly Maternity Hospital and offering study grants to women returning to the workforce has been superb. Your initiative, the biennial and highly popular Huntly Artz and Design Festival which has showcased local artisans and fashion artists since 1999 is another specific example of the community benefitting through the efforts of women.
In conclusion, I congratulate the Huntly and Districts BPW Club on reaching its 40th anniversary. The projects this club has promoted have made a real difference to improving the lives of women and this community. They reflect all the qualities I spoke of earlier – service, excellence, volunteering, enterprise and a commitment to young New Zealanders.
I am sure the founders of the BPW movement in New Zealand and this club would be impressed by all you have achieved. It is a potent legacy. As the American Supreme Court Justice Ruth Bader Ginsburg once said: "I think about how much we owe to the women who went before us – legions of women, some known but many more unknown. I applaud the bravery and resilience of those who helped all of us … to be here today."
Congratulations and thank you again for the invitation to be here to celebrate the "herstory" and achievements of your club tonight. Kia ora huihui tātou katoa.