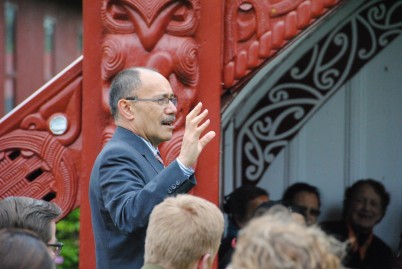 To view more images, click here
E ngā rangatira katoa e huihui nei, Atihaunui-a-Paparangi, e kui mā, e koro mā, tamariki mā, mokopuna mā, tēnei aku mihi māhana, kia ora tātou katoa. Ki a kōrua, Morvin me Kura, kei te māhana tonu te hui tuku tohu i te Whare Kāwana i tērā wiki. Tēnā korua.
Distinguished guests, the kaumātua and kuia of the iwi of the Whanganui and all those other tribes assembled here connected to the river, warm greetings to you all. To you, Morvin and Kura, the investiture at Government House last week is still warm in our hearts.
Thank you for acknowledging me and Janine here at Pūtiki, here beside the Whanganui River, as we begin our three day visit in Whanganui.
It is a great honour to be formally welcomed back to Whanganui at Pūtiki, and in front of this wharenui, Te Paku-o-te-Rangi.
Although I was born in Whanganui, lived here with my parents, went to school here, and visited often, this is my first visit, official or otherwise, to Whanganui since becoming Governor-General and representative of Her Majesty the Queen of New Zealand.
This, of course, is not the first marae I have been welcomed onto as Governor-General, and I am sure it won't be the last. Every one, however, is special as it connects me with the history, culture and whakapapa of a particular iwi and those living within a rohe.
Pūtiki is our first port of call on our visit to Whanganui. Our call here is both a proper courtesy, and recognises the manawhenua that emanates from here – the centrality of this Marae and strength and resilience of its people.
I am also conscious that I am not the first Governor-General to stand on this marae. My immediate predecessor Sir Anand Satyanand spoke here in 2009 when he attended a 28 (Māori) Battalion Reunion , and Sir Arthur Porritt was welcomed here in 1972.
And like Sir Arthur Porritt my strong connections to Whanganui city are etched in my mind. When Sir Arthur was welcomed here 41 years ago, he surprised many when he said it was not the first time he had visited. He added: "I was here 65 years ago as a small boy, to hold the horse for my father – a most beloved doctor – while he visited his patients here at Pūtiki."
I too have been here before, at least once with my father – but I didn't hold his horse! The last time I was here was as Chief of Defence Force to hand back a piece of land. That was a good time. The time before that was for an unveiling for my friend Waata Hipango.
Being in Whanganui is also special to my wife Janine, who grew up in Brunswick where she attended Brunswick School and Wanganui Girls' College. Both of Janine's parents are from Whanganui, and have stronger links here than me!
To walk on to this marae is special. It is special to be welcomed by all the people of Whanganui. It is special to be welcomed by both the iwi of the river and the local council representing the wider community. It is special because in many ways it rounds a circle. It has taken us two years to get here, but as the words of a Billy T. James song says: "we're here at last, we're finally here at last!"
Over the next few days we will be meeting many different people from many different organisations in Whanganui. We expect to hear of your plans and aspirations for the future. And a large part of our programme is dedicated to young people and education. I am reminded of a whakatauki attributed to the prophet Te Kere: "Te mana e kai ana i te miro nona te ngahere. Te manu e kai ana I te matauranga, nona to Ao"
In many ways, I share the heritage of the Whanganui River with you all. From the mouth of the Whanganui River at Castlecliff, here on the Tasman Sea, to its upper reaches in the central plateau and Papakai, the river defines our lives and the landscape. It links the highest points of Ruapehu, Tongariro and Ngauruhoe with the sea, the people along its banks and it ensures this is a region of great beauty and diversity.
When I grew up here Wanganui was ranked about the 5th largest city in New Zealand. Now, it makes up a smaller proportion of New Zealand's population. What hasn't changed is that the people of the Whanganui district contribute much to our nation's prosperity, through agriculture and tourism, and also through business, education and the arts. It is blessed with sporting and cultural venues of the highest calibre, from the Sargent Art Gallery and Whanganui Regional Museum, to the facilities at Cooks Gardens.
Returning to the river is another enduring feature of life here. As much as it's been a source of connection, the river has also been the subject of dispute. The Treaty of Waitangi claim by Whanganui iwi for the river is rightly described by historians as the longest running legal case in New Zealand history. It speaks of the determination of Whanganui iwi for recognition of their status and on-going connection with the River.
I was therefore pleased to learn that the Crown and Whanganui iwi last year signed a framework agreement to form the basis for a settlement of historical claims emphasising centrality of the river. I wish you well with your negotiations
It seems fitting to close with an ancient proverb about the river. "He muka no te taura whiri a Hine Ngākau – A thread from the woven rope of Hine Ngākau." The iwi along the river are like the threads of the rope, connected to the river as descendents of Hine Ngākau. I believe it speaks of a wider symbolism that pinpoints the significance of the river as Te Awa Tupua – an integrated living whole – to be cherished, guarded and celebrated by everyone. And as something that is to be celebrated by everyone, it in turn binds this community together.
Thank you again for welcoming us here today. Kia ora huihui tātou katoa.
Last updated:
Tuesday, 24 September 2013