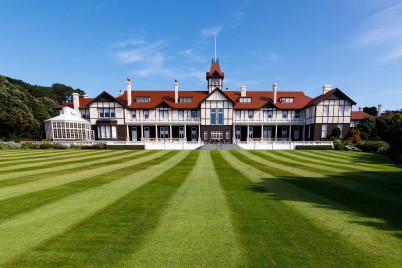 Government House in Wellington is a large, two-storeyed house, with a grand staircase, dozens of large and small rooms,  long corridors and a flag tower. 
Its principal designer was Claude Paton, the assistant to the Government Architect, John Campbell (the designer of Parliament Buildings). It was built between 1908 and 1910. The first Vice-regal resident was Lord Islington, Governor from 1910 to 1912.
The house has eight guest suites, a self-contained apartment for the Governor-General and her spouse, as well as a ballroom, conservatory, sitting rooms, service rooms, kitchens and a wing of offices. The House has a floor area of about 4,200 square metres.
Other facilities include a tennis court and pavilion, a small swimming pool, a Second World War-era bomb shelter, a squash court, and garages.
The grounds cover about 12 hectares, including flat lawns and gardens, and steep hillside. Exotic species of trees are increasingly being complemented by trees and shrubs native to New Zealand. The grounds, which are maintained by contract gardeners, were extensively redeveloped and re-landscaped in the late 1990s.
A wide variety of seasonal produce is also grown on the grounds. There are two small orchards, growing plums, apples, pears and quince to name a few. There is also an olive grove and a citrus garden. Helping the gardeners keep the grounds in shape are several bee hives, which also produce honey.
The grounds have many heritage features, and several plaques mark trees planted by the Queen and the Duke of Edinburgh, the Prince of Wales, the late Māori Queen, Te Arikinui Dame Te Atairangikaahu, and former Governors-General and their spouses. The grounds have significance as a named Māori site, known as Kaipapa, and were the location of the Mt View Lunatic Asylum. A remnant from that era, known as "Convict's Wall", can still be seen today.