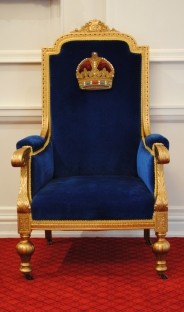 The Ballroom is the largest room in Government House Wellington.
It is used for receptions, large formal dinners, concerts, investitures and other award ceremonies, and occasionally for formal balls. It is where the Prime Minister and his or her Ministers are sworn in as members of the Executive Council by the Governor-General after a General Election.
Two thrones sit on the dais, below a 1960 portrait of Queen Elizabeth II, painted by Denis Fildes (1889-1975). The Queen is pictured in an evening dress and the star and blue sash of the Order of the Garter, as well as two Family Orders of her father, George VI (pink ribbon) and her grandfather, George V (blue ribbon). The Ballroom also features a large portrait of King George V.
The two Czech crystal chandeliers were bought in 1966 at the prompting of Lady Fergusson, during Sir Bernard Fergusson's term of office (1962-67).
The drapery matches that shown in historic photographs and requested by Lady Islington (the spouse of the first Governor to live in the House).