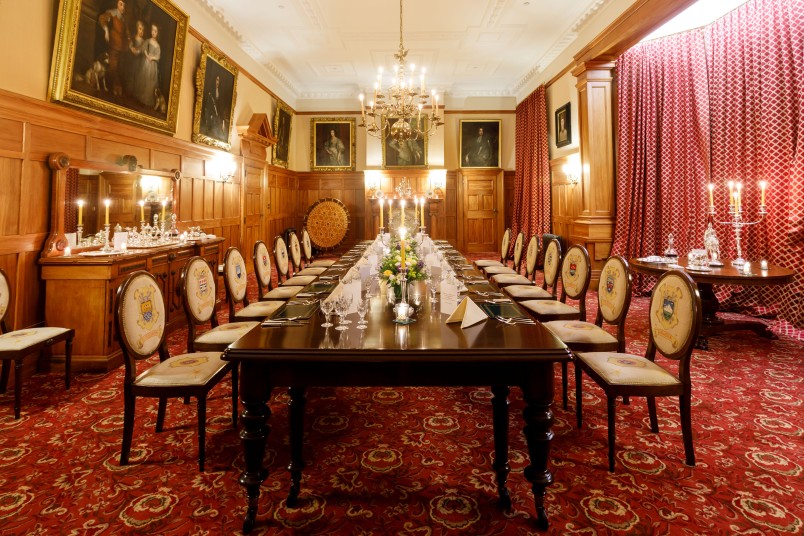 The Norrie State Dining Room in Government House Wellington features a long, extending table that dates from about 1880 and seats up to 26 guests.
The room is one of the most authentic in the House and has high heritage values. It is where State Dinners for visiting Heads of State are often held.
The room is named after Sir Willoughby (later Lord) and Lady Norrie (1952-7) who donated to New Zealand and Government House the remarkable royal portraits which are a feature of the room. In presenting the paintings to Prime Minister Holland, Lord Norrie said he was presenting the collection to thank New Zealand for the five happiest years of his life. The collection includes:
The Children of Charles I, School of Sir Anthony van Dyck
King Charles I, School of Sir Anthony van Dyck
Queen Henrietta Maria (wife of Charles I), Albert Kraaft
King Henry VIII, artist unknown – English School
Queen Elizabeth I, Mather Brown
King Edward VI, artist unknown
Queen Mary I, Marcus Gheerserts the Younger
King Charles II, artist unknown – English School
King James II, artist unknown – English School
Oliver Cromwell, Robert Walker
King Richard II, artist unknown
Prince George of Denmark (husband of Queen Anne), Sir Godfrey Kneller.
The 38 tapestry chairs were created in the 1950s by community groups around New Zealand for the visit of King George VI (which was cancelled due to his ill-health). The Country Women's Institute was heavily involved in this work, but other groups participated and a number of men undertook embroidery duties as well. On the back of each chair is the coat of arms of a New Zealand city or borough. The carver chairs (with arms) are the four major cities: Auckland, Wellington, Christchurch and Dunedin.
House silver in the room includes the statuette of the first Duke of Wellington riding his horse Copenhagen. The statuette was bought for the House during the term of Viscount Cobham, a kinsman. The Vogel Silver, including the large sterling epergne, was presented to Sir Julius Vogel by the people of Dunedin, and given to the House by Mrs Jocelyn Vogel, the widow of Prime Minister Sir Julius Vogel's grandson. More recent additions include the Spanish galleon, presented by King Juan Carlos of Spain when he stayed in the House in 1989, and the two silver pheasants which were given by Queen Beatrix of the Netherlands during a State Visit in 1992.
The large gilt mirror was once owned by Sir George Grey and the brass pendant candelabrum was found in storage and restored and hung by Lady Beattie, during Sir David Beattie's term (1980-85). The fire screen is of silk needlework, dating from about 1850.
The narrow width axminster carpet is a heritage replica, based on photographs and inventories of the original, while the drapery fabric was closely matched to that shown in historic photographs.