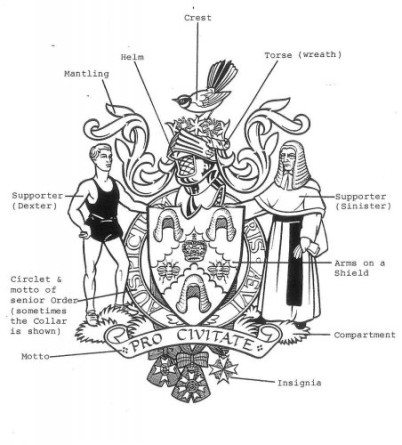 While the carvings are colloquially referred to as "coats of arms," the correct term is Armorial Bearings or an Achievement of Arms.
The terms are synonymous and refer to the whole Arms (Shield, Crest, Supporters, Motto etc). The coat of arms is technically the design that features on the shield in the middle of the panel. Another popular misconception that the word "crest" describes a whole coat of arms or any heraldic device. A crest is a specific part of a full achievement of arms: the three-dimensional object placed on top of the helm.
In heraldry, a number of terms are used describe the features of each Achievement of Arms. Some key features are the supporters, or figures on either side of the escutcheon (or shield). The supporter on the left is known as the Dexter supporter and the one of the right as the Sinister supporter. Each of the supporters may stand on a feature known as a Compartment. The feature at the top of the Achievement is known as the Crest. The crest sits on the Helm (or helmet), which often features a Torse (wreath) and Mantling. Another common feature of some arms is the Circlet with the motto of person's highest order (sometimes just the collar of the highest order is shown). Beneath the circlet, is the motto and beneath that, the Insignia of the various honours the person has received.
The official authority on heraldry is the College of Arms in the United Kingdom