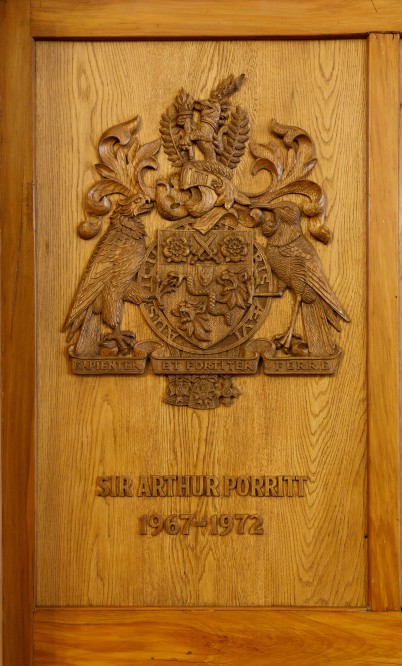 The 21 carved panels in the Taupaepae, or main entrance hall of Government House Wellington are believed to be unique among Commonwealth Government Houses.
The panels display the full "Armorial achievements" of Governors, beginning with Lord Islington (1910-12), who was the first resident in the House, and the Earl of Liverpool (who was also the first Governor-General), and all subsequent Governors-General of New Zealand. Each panel is one metre high by 500mm wide.
The most recent carved panel to be added to the collection is that of The Rt Hon Dame Patsy Reddy, who completed her five-year term in 2021.
The carvings sit alongside the carved pou or pillar facings, which are carved out of totara in the Taranaki style and stand more than two metres tall. They were installed during the term of the late Sir Paul Reeves (1985-90) who carved a small section himself.