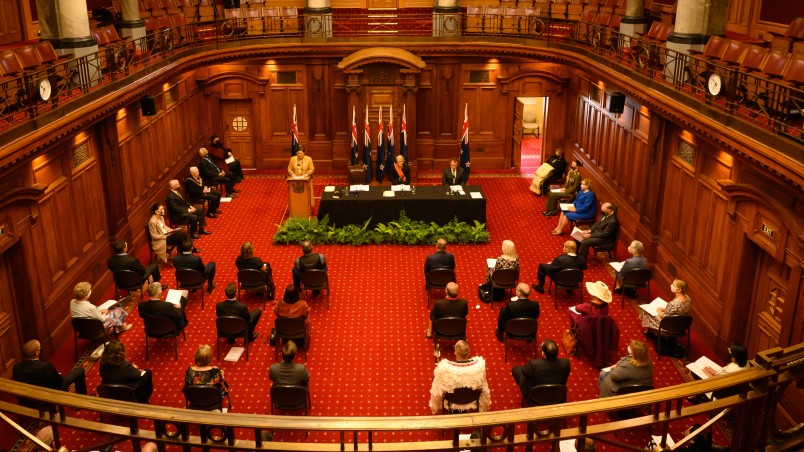 The Governor-General's constitutional role is to maintain the legitimacy and continuity of government by ensuring there is always a government in office with a democratic mandate to govern. 
Legitimacy is the foundation of civil peace and the order that is maintained by the rule of law.
Some of the Governor-General's constitutional roles include signing the writ that dissolves Parliament before a general election is held, appointing the government after an election, and giving the Speech from the Throne at the State Opening of Parliament.
The Governor-General's formal title includes the phrase "Commander-in-Chief in and over New Zealand" but he or she does not play an active role in military matters.
The Sovereign and the House of Representatives together make up the Parliament of New Zealand. The Governor-General, as the Kings's representative, signs into law bills that have been passed by the House of Representatives (The Royal Assent). The Governor-General also presides at meetings of the Executive Council where Ministers of the Crown, who are also Council members, present regulations for signature.
By convention, the Governor-General is bound, with rare exception, to act on the advice of Ministers who have the support of the House of Representatives. It is the duty of Ministers to keep the Governor-General informed about government business. As well as having the right to be consulted, the Governor-General may also encourage and warn Ministers.
On the advice of Ministers, the Governor-General appoints members of the judiciary, justices of the peace and other key public officials, including the members of independent crown entities, such as the Law Commission and the Broadcasting Standards Authority. The Governor-General also signs the commissions of officers of the New Zealand Defence Force and the warrants for Royal Commissions of Inquiry and may exercise the Royal prerogative of mercy.