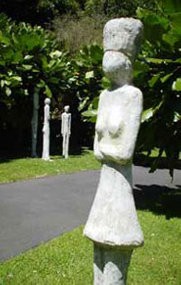 Government House Wellington has an extensive collection of art and artifacts, including works from the 16th Century.
The Norrie Collection of paintings of British monarchs and other royalty in the Norrie Dining Room were donated by Sir Willoughby (later Lord) Norrie to the House at the end of his term as Governor-General.  Nathaniel Dance's 1776 painting of Captain Charles Clerke, the only known portrait of this friend of Captain James Cook, is above the fireplace in the Blundell Room.
The House houses works by distinguished New Zealand artists, from its own collection, or on loan from the permanent national collections, including works by Sir Peter Siddell, Sir Peter McIntyre, Sir Toss Woollaston, Ralph Hotere ONZ, and Michael Smither.
Other treasures include the mere or greenstone club, Te Raupatu, presented to the Crown by the Tainui iwi at the signing of its Deed of Settlement in 1995, as well as Māori artifacts provided by former Governor-General, the late Sir Paul Reeves.
The Cobham Billiard room is home to a collection of cartoons of Governors-General.
Images of art and artifacts of Government House