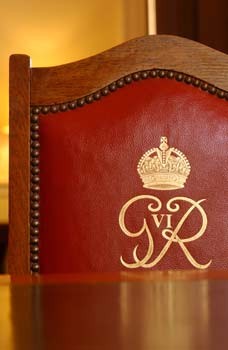 Until the early 1970s, the Executive Council met in the Council Room and Ministers presented regulations requiring the Governor-General's signature.
The room is now used for business meetings, such as the Rhodes and Georgetti Scholarship Committees. The distinctive red GVI chairs were remade for the cancelled visit of King George VI.
The Room also acts as the Government House library, and contains clipping books of newspaper stories which provide a valuable record of events at Government House and the role played by successive Governors-General.
A rimu library shelving unit runs the length of the western wall, with a timber ladder on wheels that slides the length of the unit.
The kowhaiwhai carpet, designed by Andrew John Tama-Kainga McLeod, was developed in homage to 20th Century New Zealand artist Theo Schoon, a notable 20th Century New Zealand artist. Schoon was one of the first European artists in New Zealand to blend European modernism with motifs from Māori art.