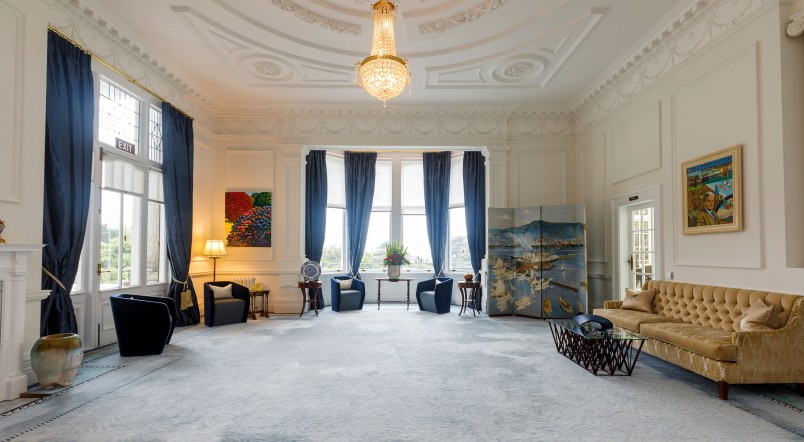 The Blundell Room, and associated Porritt Room, originated in the  'withdrawing room' of times past. 
The rooms are named after the first New Zealand-born and resident Governor-General, Sir Denis Blundell (1972-77) while the smaller room is named after Sir Arthur Porritt (1967-72), the first New Zealand-born Governor-General.
The Blundell Room is used for small receptions, and is where ambassadors present their credentials to the Governor-General.
The room's art collection includes a folding screen by Peter McIntyre. Commissioned by Lady Freyberg in 1951 (Lord Freyberg was Governor-General from 1946-52), the screen depicts Wellington Harbour by day on one side, and by night on the other.
Above the fireplace is the only known portrait of Captain Charles Clerke RN, one of Captain James Cook's senior officers, who took over command of the expedition after Cook's death. It was painted by Sir Nathaniel Dance in 1776 and presented by Governor-General Lord Galway (1935-41).
Gavin Chilcott was commissioned to design a contemporary wall-to-wall carpet for the Blundell and Porritt rooms. The design features a fern rotated and reflected in Blundell, and in wreath form in Porritt, mirroring that on the red carpet runner in the hallway. The carpet was handtufted by Dilana Rugs in Christchurch, using enough wool yarn to stretch from Cape Reinga to Bluff.
The furniture in the rooms includes refurbished and contemporary New Zealand-designed furniture, showcasing the best of New Zealand design. The furniture arrangement can be reconfigured to accommodate the various official functions of the room.
The theme of the Blundell Room is New Zealand's native bird, the Tui, known for its social, chatty nature. The dark oily blue tones of the Tui's plummage and the bright yellow of the Kowhai flower that the Tui feasts upon, have guided the selection of drapery and upholstery fabrics.