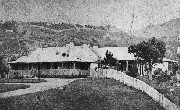 The first Wellington Government House was Colonel William Wakefield's villa, near the main steps of Parliament Buildings.
Although this residence was taken for use as a hospital for a time in 1848 after a severe earthquake, there is a record of the first Government House Ball being held in it, on 10 February 1849.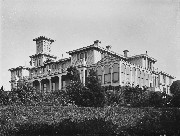 The second Government House in Wellington, built in 1868, was a large timber mansion designed in the Italianate style. This building stood on the site of the present Executive Wing of Parliament Buildings, also known as the Beehive. This residence was lived in by successive Governors, from Sir George Bowen to Lord Plunket, until it was taken for use as the Parliamentary Debating Chamber after the 1907 fire that destroyed the neighbouring General Assembly building. After that, the house became the Parliamentary restaurant, Bellamy's, until it was demolished in 1969.
While the current Government House in Wellington was built from 1908 to 1910, Lord Plunket lived in Palmerston North. Government House in Palmerston North later became part of Massey University and is now known as Caccia Birch House.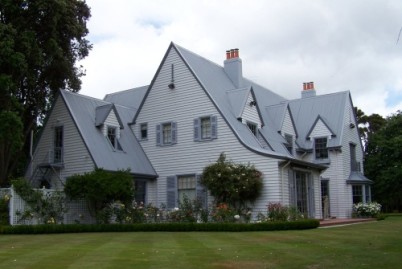 The Hutt Valley in Wellington also had a Government House for two years. In 2009 and 2010 when the current Government House Wellington was closed for major strengthening and refurbishment, Vogel House in Lower Hutt was home to Governor-General Sir Anand Satyanand. During this time, it was renamed Government House Vogel. The House was originally built as a wedding gift for Jocelyn Riddiford from her parents when she married James Vogel in 1932. In 1966 Mrs Vogel gifted the property to the government as a Prime Ministerial residence.
As well as the earlier Government Houses in Wellington, there have also been four in Auckland. The first two Auckland houses both burnt down. The large wooden residence built by Captain Hobson was destroyed in 1848 and the second vice-regal residence was destroyed in 1857. However, some argue that this house, variously known as St Keven's, St Kevin's or Moleskin Hall, should not be counted as it was only rented for the Governor's use.
Auckland's third Government House was completed in 1856, as part of Auckland's campaign to retain the status of New Zealand's capital. This house was only used sporadically after the capital was moved to Wellington in 1865, and was eventually taken over by the University of Auckland in 1969. This acquisition was possible because, in 1962, Sir Frank and Lady Mappin presented their Epsom property, "Birchlands," to the Queen and her representatives. This residence, with its outstanding gardens, is the present-day Government House, Auckland.