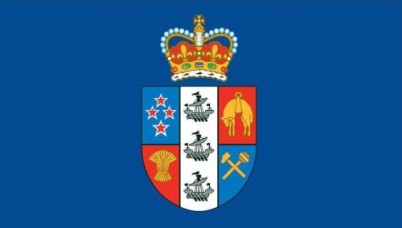 The Governor-General's flag was officially flown for the first time at ceremonies at Government House Auckland on 5 June 2008 and at Government House Wellington on 17 June 2008.
The dark blue flag features the Shield of the New Zealand Coat of Arms surmounted by a Royal Crown in the centre. In heraldic terms the official description is: "A flag of a blue field thereon the Arms of New Zealand ensigned by the Royal Crown all proper."
The flag is flown the top of either Government House Wellington or Government House Auckland whenever the Governor-General is in residence. It also flies from the Governor-General's car when  she is travelling and from a flagpole outside Parliament Buildings when the Governor-General is attending Executive Council.
The flag replaced the previous flag, approved by King George V in 1931, and adopted by New Zealand in 1937. That flag was of a standard pattern designed for use by Governors-General of the then Dominions of the British Empire, and was dark blue, with the Royal Crest surmounted by crowned lion in the centre, and the words "New Zealand" in a scroll beneath.
The current flag, which was approved by Queen Elizabeth II, was announced on Monday 2 June 2008.
The design for the flag followed a review of the Governor-General's flag and emblems, requested by Government House in 2005, and undertaken by the New Zealand Herald of Arms, Phillip O'Shea. The old flag lacked distinctive New Zealand elements and reflected an era before New Zealand became an independent nation.
Several flags have been used by New Zealand's Governors or Governors-General over the years. The first flag, from 1869 to 1874, was the Union Jack, with four five pointed white stars on the red ground of the St George's Cross.
That design was based on a misinterpretation of the Order in Council and was corrected in 1874 to feature the Union Jack with the Governor's Badge in the centre. The Badge was composed of the letters "NZ" in the centre of four red, five-pointed stars within a wreath of green laurel leaves. In 1907, the laurel was replaced with a wreath of green fern fronds.
While King George V approved a new Governor-General's flag in 1931, the then Governor-General, Lord Bledisloe, was reluctant to use it. The next Governor-General's flag was adopted and used by Governor-General Lord Galway from 1 October 1937.