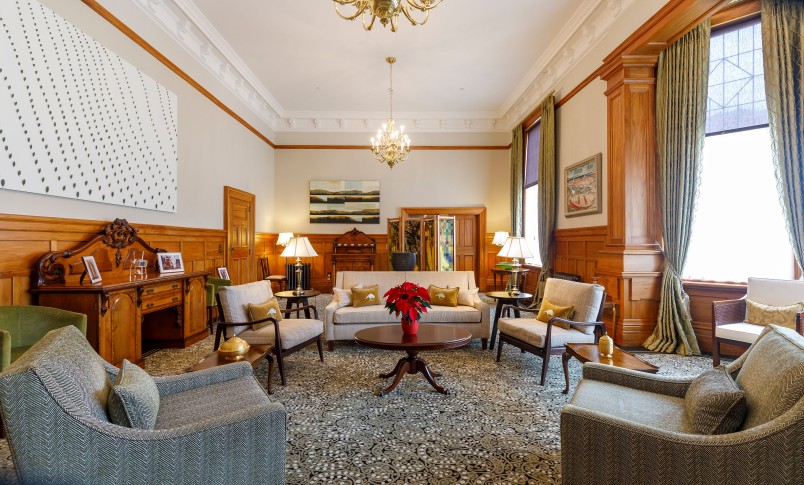 The Liverpool Room is named after the Earl of Liverpool (1912-20) who was New Zealand's last Governor and first Governor-General following the issuing of new Letters Patent in 1917.
The room is used for bilateral meetings with visiting Heads of State, and as a sitting room to receive small groups of guests and for small gatherings, usually at morning or afternoon tea. The room also hosts recipients of New Zealand honours before their investiture in the Ballroom.
This drawing room has had many names, including the Billiard Room, the Smokers Room, and more recently the Green Sitting room. It features contemporary New Zealand art, including two glass pieces by Ann Robinson and a painting by the late Don Binney.
The chiffonier is Victorian and the Sheraton oval table was made in the late 18th century, during the reign of George III. The clock on the mantel was a gift from the President of Ireland, Mary Robinson (1990-97).
In the past, the rimu panelling, fireplace and skirting boards were painted and as a part of the conservation project the layers of paint were methodically removed to reveal their former glory.
The carpet is a kowhaiwhai pattern designed by New Zealand artist Andrew John Tama-Kainga McLeod. The design references the work of 20th Century New Zealand artist Theo Schoon, who used Māori motifs in his art work.