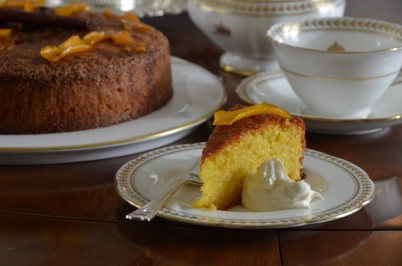 Cake Ingredients
1 1/3 cups of stale white bread crumbs
1 cup of white or castor sugar
1 cup of ground almonds
1½ tsp of baking powder
1 cup of olive oil (or any other vegetable oil such as sunflower. The more complex the oil the more complex the cake)
4 eggs
Zest of 1 large orange
Zest of 1 un-waxed lemon
Syrup Ingredients
Juice and zest of 1 large orange
Juice and zest of 1 un-waxed lemon
1/3 cup, white or castor sugar
2 cloves
1 x cinnamon stick
Greek yoghurt or cream fraiche to serve.
Preheat oven to 175 degrees C.
Line a 20cm spring form cake tin with baking parchment.
In one bowl, mix together breadcrumbs, sugar, ground almonds and baking powder.
In another bowl whisk the eggs and olive oil together, add the citrus zest and pour into the dry ingredients. Stir well to combine.
Pour the batter into the prepared cake tin and bake for 40 to 50 min until golden brown and a skewer comes out clean when tested.
While the cake is baking, make the syrup.
Zest large strips of the orange and lemon with a vegetable peeler (for decoration) and place in a heavy bottomed small sauce pan.
Add the sugar and strained juice of the fruit along with the spices.
Heat gently, allowing the sugar to dissolve and simmer for three minutes. Leave aside.
When cake is ready and just out of the oven, skewer across the surface of the cake to allow the syrup to penetrate. Pour over the syrup while hot. (Let the cake sit on a plate in it's tin and keep reapplying syrup if it leaks through. Allow to cool.
Remove from cake tin and serve with Greek yoghurt or cream fraiche.
This cake will keep particularly well.