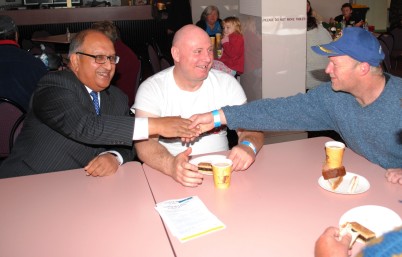 For more photos of this visit, please click here.
On Monday 13 September 2010, the Governor-General, Rt Hon Sir Anand Satyanand, and Lady Susan Satyanand, visited the Canterbury region to encourage and support those affected by the 4 September earthquake. The visit comprised:
A visit to the Civil Defence Group Emergency Operations Centre located at the Environment Canterbury Building
A visit to the Christchurch City Council Civic Building to meet with Bob Parker, Mayor of Christchurch, and Emergency Operations Centre staff
A tour of the damage around Christchurch city. Roads toured included Manchester Street, River Road, Woodham Road and Avonside Drive
A visit to the Addington Welfare Centre to meet staff, volunteers and affected people staying there
A tour of the Halswell School grounds
A visit to the Lincoln Drop In/Information Centre staffed by volunteers
A visit to the earthquake epicentre site on Highfield Road, Darfield
Sir Anand and Lady Susan hosted a BBQ at the Selwyn District Council Headquarters for volunteers and staff who have been actively involved in manning the Emergency Operations Centre and keeping the office operational
A visit to Rolleston School to meet the Principal, Andrew Morrell, and the students

Message from the Governor-General
All New Zealanders have been shocked by the devastation wrought by last Saturday morning's earthquake. While some were hurt, and homes, businesses and infrastructure have been damaged, it is a miracle that no lives were lost. With the region continuing to experience aftershocks, many Canterbury people are naturally worried for the future. Even so, the strength and resilience of the community is impressive. Everyone from central and local government to civil defence, the emergency services and community groups is doing their utmost to help the people of this proud region find their feet again. Most impressive has been the support shown by neighbours, with individual acts of kindness and hospitality bringing hope to those in need. As people now steel themselves for recovery and rehabilitation, and progress emerges, my wife Susan and I look forward to coming to Canterbury to lend our support.
Last updated:
Wednesday, 15 September 2010