Role
Term
Governor
1845 - 1847
Governor-in-Chief
1848 - 1853
Governor of New Zealand
1853 - 1853
1861 - 1868
Sir George is the only man to have served serve two terms as Vice-regal representative: 1845-1853 and 1861-1868.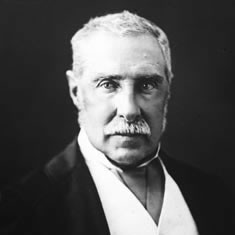 Sir George was born in Lisbon in 1812. He graduated at Sandhurst and served in Ireland where he rose to Captain but he resigned his commission soon after.
He explored in north west Australia before being appointed Governor of South Australia 1840-45. After serving in New Zealand, he became Governor of the Cape Colony and High Commissioner for South Africa from 1854-61. He then returned to New Zealand for a second term as Governor.
Thereafter, he was unsuccessful in a Parliamentary bid in England before returning to New Zealand. In 1875 Grey was elected superintendent of Auckland province and also to Parliament for Auckland City West. He fought vigorously in Parliament and in public to save the provinces, but without success. He served as Premier of New Zealand 1877-79. He died in London in 1898.
Biographical information courtesy of NZ Almanack

Visit the Dictionary of New Zealand Biography for more information