This loaf is one of Dame Patsy's favourites. The image shows it served both baked and steamed with savoy cabbage, artichoke puree, roast pumpkin and artichoke chips but it goes well with anything.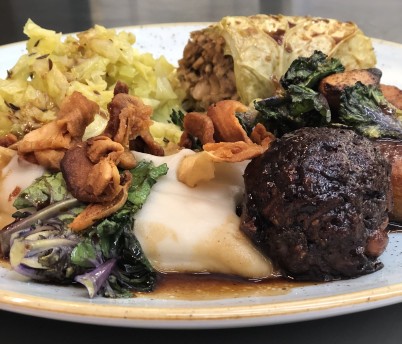 Ingredients
1 Tbsp oil
3 shallots, finely chopped
1 garlic clove,
2 Tbsp chia seeds
1 Tbsp ground flax seed
4 Tbsp of your favourite Vegan Bbq sauce
2 Tbsp Worcestershire sauce
1 Tbsp Dijon mustard
3 cups grated parsnips
1 cup blanched chestnuts
1 x can drained cannellini beans or Chickpeas, red kidney, lentils etc.
1 cup, toasted and chopped hazelnuts or almonds
½ cup fresh bread crumbs, or Gluten free crumbs
3 Tbsp nutritional yeast
Handful chopped sage
Salt, pepper, spice or chilli
Glaze
3 Tbsp BBq sauce
2 Tbsp tomato ketchup
3 Tbsp maple syrup
1 Tbsp Dijon mustard
1 tsp smoked paprika
A dash of liquid smoke
Method
Preheat oven to 170.C
In a frypan, saute shallots and garlic in oil until translucent and beginning to brown. Set aside.
In a small bowl soak the chia and flaxseed with the bbq, Worcestershire and mustard until swollen and jelly like.
Combine cooled shallots, soaked seeds with the parsnip, chestnuts, beans and nuts and stir to combine, leaving as coarse as desired.
Season to taste with yeast, sage and seasonings.
Adjust consistency to a thick paste with breadcrumbs.
Pack into a greased and paper lined loaf tin and bake for 30 minutes until dark brown and firm to touch. Allow to cool 5 minutes and turn out onto paper lined oven tray.
Combine sauce, ketchup, maple, mustard and spices and spread liberally over baked loaf.
Return to oven for ten minutes or until sticky and caramelized.
(alternatively roll raw mixture into meatballs and bake for less time on paper lined tray. Repeat the technique for glazing.)