Dame Patsy and Sir David spent a couple of days in the Southern Lakes last week. The focus of their visit was innovation in the arts, tourism and sustainability.
Day One saw the Dame Patsy attending the Festival of Colour. Based in Wanaka,with satellite performances all around the Central Otago area, the Festival takes place every two years, offering a varied programme of arts events.
While in Wanaka, Dame Patsy introduced a performance by Jordy Savall and then dropped in on a rehearsal of "Permission to Speak", a theatrical work featuring Mount Aspiring College students.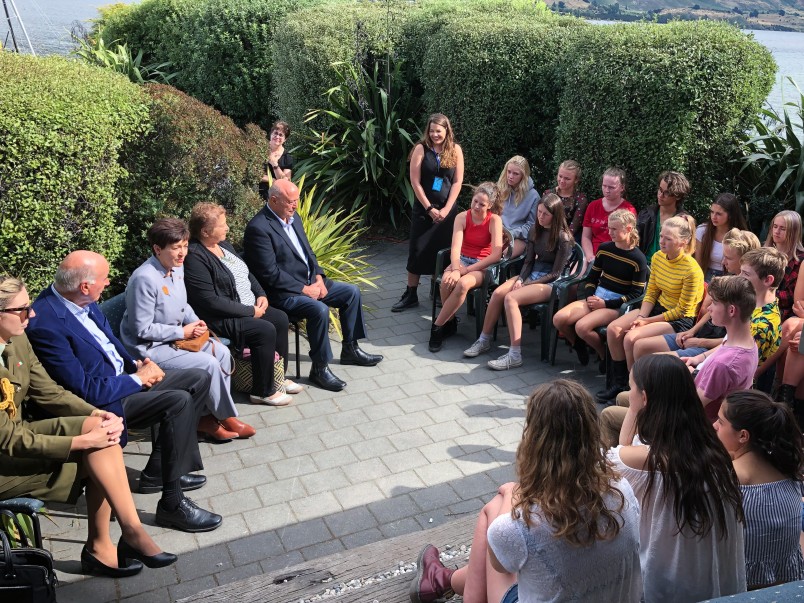 On Monday 1 April, Their Excellencies began the day at The Hills Golf Club with a tour of the sculpture collection. From there they travelled to Shotover Jet for a briefing on tourism and sustainability.
The final day of the visit saw the couple tour Arrowtown's historic Chinese settlement before receiving a briefing on the wilding pine situation from DOC. The wilding pine theme continued at New Zealand Essential Oils/aoTERRA, where wilding pines are being used to manufacture essential oils. The last event was a trip to Camp Glenorchy to find out more about the eco- retreat's sustainability focus.