There was an arty undertone to Dame Patsy's stay in Auckland this week.
First stop was Auckland Art Gallery for the exhibition "A Place to Paint: Colin McCahon in Auckland"
Later that evening, Dame Patsy spoke at Zonta International's centeneray celebrations and helped them launch their "Light the Bridge Orange' initiative.
One of the highlights of the evening was the performance of the Auckland Girls' Choir, featuring girls aged from 9-16 from 25 schools across Auckland
Tuesday began with a visit to The FoodBowl in Mangere, a business accelerator supporting established and new food and beverage manufacturers.
Dame Patsy and Sir David got to try some healthy turmeric and activated charcoal shots and while the non-alcoholic gin was met with scepticism at first, but proved to be a refreshing drink.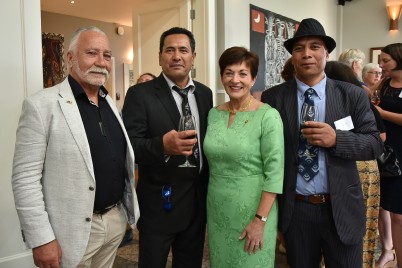 That evening Dame Patsy hosted a reception for the Auckland City Mission, thanking the Mission for their work with Auckland's most vulnerable people. Guests were asked to bring a donation of food or other items with everything going to the Mission food bank for distribution to clients.
On Wednesday, Dame Patsy and Sir David headed to Titirangi to the McCahon House Museum
The day ended with a trip to cast glass artist Ann Robinson's workshop