This week saw the conclusion of the Queen's Birthday investiture ceremonies, where many amazing Kiwis received their New Zealand Royal honours. The citations merely scratch the surface of a lifetime of outstanding work achieved by the recipients – a great example of this was Tiger Moth pilot Rona Fraser, MNZM.
The nonagenarian pulling up to Government House in her new Kona blue Mustang was a hint there was more to her than you might think! (blue was her second choice, she would have preferred purple). Rona arrived to receive an MNZM for services to women and aviation; among her achievements was founding the New Zealand Association of Women in Aviation in 1959.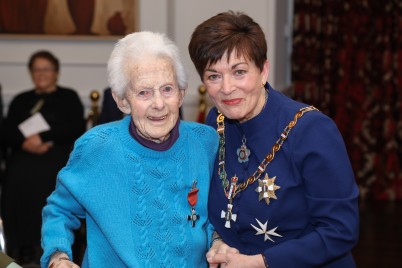 The NZAWA has helped encourage more women to join the world of aviation through mentoring and scholarships. The group includes female pilots, flight attendants, balloonists, parachutists and everything in between. After Rona met with her in Rotorua, New Zealand's most famous aviator, Jean Batten, was patron of the organisation for many years until her death.
Rona's own journey to the skies began after being inspired to fly from World War II pilots. She went on to become the first woman gain a private pilot's licence after World War II, and the first woman to fly solo from the Wellington Aero Club. She began her aviation training in 1952 flying Tiger Moths and her first solo flight happened after just four and a half hours of dual flying. Rona then became licenced to fly an Auster Aiglet, Chipmunk, Piper Cub, Tri Pacer and a Citabria.
As well as being an accomplished pilot, early in her career Rona was a skilled welder; she was the only woman welder in the General Motors body shop in Petone at the time. She was also a welder at Seaview's Ford plant and later worked at an engineering firm where she learned to use the lathe machine. Rona then started a riding school at her farm in the Wairarapa, where she bred Arabian horses.
In 2012 she was interviewed by Radio New Zealand, it's worth hearing more about her trailblazing life - click this link to listen.