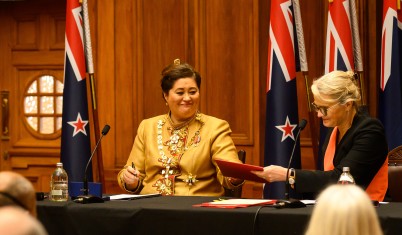 "I stand here today: grateful for this opportunity, and determined to bring all my experience, understanding, and resolve to this new chapter of our nation's story".
On Thursday 21st of October, The Rt Hon Dame Cindy Kiro was sworn in as Governor-General of Aotearoa New Zealand. The ceremony took place in the Legislative Council Chamber of Parliament, attended by Prime Minister Jacinda Ardern and Chief Justice Dame Helen Winkelmann.
After her Swearing-In at Parliament this morning, Dame Cindy and Dr Davies visited Pukeahu National War Memorial Park to lay a wreath at the Tomb of the Unknown Warrior and to sign the Visitor's Book.
Representing the New Zealand Defence Force at Pukeahu was Chief of Defence, AM Kevin Short, Chief of Navy RA David Proctor, Chief of Army Maj Gen John Boswell and Chief of Air Force AVM Andrew Clark.
Swearing-In speech
More photos