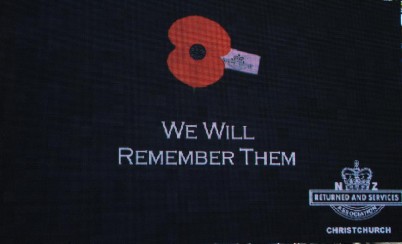 To view more images, click here
E aku rangatira e hui tahi nei, e te hunga hōia o ngā pakanga o mua, o ngā pakanga o inaianei, ngā pouaru me a whānau, aku mihi māhana ki a koutou katoa i tenei rā whakamau māhara. To the veterans, the soldiers of past and present battles, the widows and the families, and all those who have gathered here, my warm greetings to you all on this day of remembrance.
I specifically acknowledge: Rt Hon John Key, Prime Minister; Grant Robertson, Deputy Leader of the Opposition representing the Leader of the Opposition; Your Excellency Anthony Mongalo, Dean of the Diplomatic Corps, Your Excellencies Paul O'Sullivan and Ali Yakitai, the Australian High Commissioner and Ambassador of Turkey respectively and other members of the Diplomatic Corps; Lieutenant General Rhys Jones, Chief of the Defence Force and the service chiefs; Colonel David Moloney, National Vice-President of the Royal NZ Returned and Services Association.
It is a great honour for me and Janine to be here this morning. Observing Anzac Day and remembering the exploits of Anzacs past, present and future and their underlying motives are central to our appreciation of this day; and our understanding of nationhood and our democratic tradition.
The next few years will be special for us as we mark and recall significant anniversaries. They are dates that were turning points in our nation's history, in our nation's sense of its place and role in the world, and in our collective national identity – what it means to be a New Zealander.
In 2014 we will mark the centenary of the start of First World War – that war that was supposed to end all wars - and the 75th anniversary of the start of the Second World War.
In 2015 we will mark the centenary of the landings at Gallipoli. The following year, in 2016, it is the centenary of the first ANZAC Day and the formation of the Royal New Zealand Returned and Services Association.
In 2017, we will recall the horror of the Battle of Passchendaele on the Western Front when, on 12 October 1917, more New Zealanders died on that single day than at any other time our young nation's history.
Today we recall that 97 years ago the men of the Australian and New Zealand Army Corps - the ANZACs - stepped into our history when they went ashore at Gallipoli. This ill-fated and ultimately unsuccessful campaign claimed the lives of thousands upon thousands of New Zealand, Australian, Allied and Turkish lives.
The service of these men is the stuff of legends. On the hills above what is now known as Anzac Cove, the ANZACs distinguished themselves as soldiers. In addition to their courage, they showed determination, comradeship and compassion that became both their legend and their legacy that endures to this day.
At times they fought like demons; at times they extended the hand of peace across to their Turkish foe. It is often said that Gallipoli was where a sense of nationhood was born for Australia, New Zealand and Turkey.
On Anzac Day we pause to recall the ties of friendship and family that were formed in the trenches at Gallipoli, on the Western front and in battlefields since that time. The bonds forged between New Zealanders and Australians have remained strong, enduring and resilient to this day. We continue to serve alongside each other as peacekeepers, attempting to bring stability to troubled lands.
On Anzac Day we pause to honour all of the men and women who have served our country; whether that country is New Zealand, Australia or Turkey. Many of them made the ultimate sacrifice.
On Anzac Day we remember the families of the servicemen and servicewomen who have served and who are currently serving.
This building, opened 80 years ago today by the Governor-General, Lord Bledisloe, stands as a permanent reminder of our nation's outpouring of grief at the tragic loss of so many lives, and for our desire for peace. More than 50,000 people were here to see Bledisloe turn on the Lamp of Remembrance atop the tower for the first time.
This building continues to stand as a testament to all the New Zealanders who have served our nation and lost their lives in war or on peacekeeping missions. In this past year, three others have been added to the memorial list - Corporal Douglas Grant; Lance Corporal Leon Smith; and Corporal Douglas Hughes.
And finally, on Anzac Day New Zealanders pause to reflect on what it means to be a New Zealander. It is a day to ask ourselves how we can live up to the hope our ANZACs had for our future as they struggled ashore and fought over the eight months of the campaign.
It is a time for us to ask how we can continue to give meaning to the values of comradeship, courage and compassion our ANZAC soldiers upheld against great odds. We recall with pride the inspirational bravery, commitment and sacrifice of all of our servicemen and women in many different theatres since. And trust that if called upon in the future, those Anzacs will be as stout-hearted.
As we approach the centenary of the Gallipoli Landings and as we face the challenges of today, the service and example of our Anzacs continues to inspire us all. This passage from the Punch Magazine in 1916 captures the essence of their legacy:
"Not many are left, and not many are sound,
And thousands lie buried in Turkish ground,
These are the ANZACs; the others may claim,
Their zeal and their spirit, but never their name."
Lest we forget - Kia ora huihui tātou katoa.