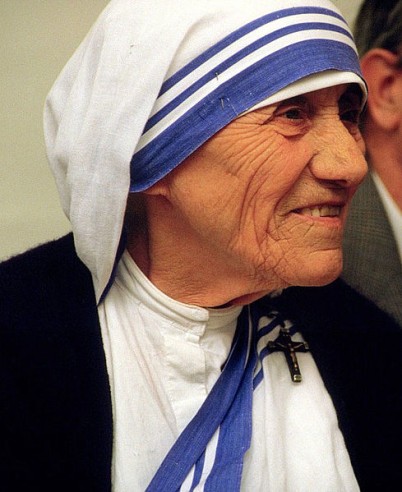 I begin by greeting everyone in the languages of the realm of New Zealand, in English, Māori, Cook Island Māori, Niuean, Tokelauan and New Zealand Sign Language. Greetings, Kia Ora, Kia Orana, Fakalofa Lahi Atu, Taloha Ni and as it is the afternoon (Sign)
I then specifically greet you: Your Lordship Pat Dunn, Catholic Bishop of Auckland; Monsignor Ray Green, Parish Priest of Christ the King Church Owairaka; Your Excellency Admiral (Rtd) Sureesh Mehta, High Commissioner for India to New Zealand; Members of the Mother Teresa Centennial Committee; Distinguished Guests otherwise, notably Hon Phil Goff Leader of the Opposition, Dr Jackie Blue and Dr Rajen Prasad, Members of Parliament; Ladies and Gentlemen.
It was with much pleasure that my wife Susan and I accepted the invitation from the Mother Teresa Centennial Committee to be here for this gathering to mark 100 years since the birth of the widely known Blessed Mother Teresa of Calcutta. I would like to take an opportunity to speak a little of her life and the ongoing significance of her work.
Born in August 1910 in Skopje, in what is today the capital of the former Yugoslav Republic of Macedonia, and christened as Agnes Gonxha Bojaxhiu, Mother Teresa can be described as one of the most influential and iconic people of the 20th Century. She appeared twice on the cover of Time magazine, which called her as a living saint.
The daughter of an Albanian grocer, she went to Ireland in 1928 to join the Sisters of Loretto. Just six weeks after her professing as a nun, she sailed for India where for she taught for many years at that Order's school in Kolkata.
In 1946, however, while travelling in a train to Darjeeling for the Order's annual retreat, she experienced what she termed a "call within a call," which she saw as divine inspiration to devote herself to caring for the poor, sick and destitute.
She gave up a relatively comfortable position as Headmistress of the Convent School and moved into the slums where she began work establishing a new religious order that was dedicated to assisting the poorest among the poor—the Missionaries of Charity.
The rest, as the phrase goes, is history. From just 12 members in 1950, by the time of her death, in 1997, the Order was operating 610 missions in 123 countries, including hospices and homes for people with leprosy, tuberculosis and HIV/Aids, along with orphanages, schools and many other facilities. In addition to the Missionaries of Charity, she also established orders for brothers and priests as well as lay workers.
The honours she received in her lifetime, including the Nobel Peace Prize in 1979, came from all corners of the globe. Most significantly, she was beatified in 2003—reaching that rank in the shortest time in the history of the Catholic Church.
For New Zealanders, what lessons might be drawn from her life and teachings? Clearly, for those who are Catholics, the life and work of the Blessed Mother Teresa holds a special place and that is acknowledged. However, I am one who believes there are wider messages that can be drawn regardless of one's faith or background.
The first message to be drawn from her life is the respect and dignity that ought to be shown for all humanity. The point was made by the well known contemporary Indian writer, Khushwant Singh, who followed her for three days while writing a profile article on her for The New York Times. Singh wrote of his experience in the following words: "Mother Teresa dropped me at Dum Dum Airport. As I was about to take leave of her she said, 'So?', wanting to know whether I had anything else to ask her. I said: 'Tell me how can you touch people with loathsome diseases like leprosy and gangrene? Are you revolted by people filthy with dysentery and cholera?' She replied: 'I see Jesus in every human being. I say to myself this is hungry Jesus. This one has gangrene, dysentery or cholera. I must wash him and tend to him.'"
While a devout Catholic, Mother Teresa saw beyond the labels of race, culture and ethnicity to this inherent unity of humanity in all its diversity. As she once also said: "By blood, I am Albanian. By citizenship, an Indian. By faith, I am a Catholic nun. As to my calling, I belong to the world. As to my heart, I belong entirely to the Heart of Jesus."
That calling can be seen in this gathering, organised by the Mother Teresa Centennial Committee, the membership of which includes Hindus, Muslims, and Sikhs, Māori, Pākehā and Christians. The constitution of the committee is also reflected in the rainbow of cultures, faiths and ethnicities on display here today.

New Zealand is a nation whose cultural, religious and ethnic make up has become considerably diverse, particularly here in Auckland and especially so in the last quarter century.
That diversity poses both opportunities and challenges and raises many issues that need to be discussed. The life of Mother Teresa shows it to be equally important as we address those issues, that we also recognise the universal human values of justice, tolerance and respect for others.
A second key message in Mother Teresa's life is the importance of service to the community. His Holiness Pope John Paul II made the point well when he beatified her on Mission Sunday in October 2003. He said as follows: "Her life is a testimony to the dignity and the privilege of humble service. She had chosen to be not just the least but to be the servant of the least. As a real mother to the poor, she bent down to those suffering various forms of poverty. Her greatness lies in her ability to give without counting the cost, to give 'until it hurts'. Her life was a radical living and a bold proclamation of the Gospel."
Few of us receive the call to devote ourselves as selflessly to others, to give until it hurts, as Mother Teresa did. However, her life shows we can all make a difference through voluntary service to professional organisations, sporting and community groups, charitable organisations, schools and hospitals.
In this example of service, New Zealanders seems well placed. As Governor-General, I have the privilege of holding investiture ceremonies where those New Zealanders recognised in the New Year and Queen's Birthday Honours receive their awards.
While the lives of those receiving the highest honours are well known to all, Susan and I never cease to be impressed by the enormous voluntary service recognised by less well known community workers recognised with the Queen's Service Medal. In many cases, the citations that are read out speak of 20, 30, 40 and sometimes even 50 years of service to a vast array of community groups.
The spirit of volunteerism is a glue that holds our society and economy together. Our health, education and social service sectors would grind to a halt without the countless hours of voluntary work that many people provide. This work speaks loudly of Mahatma Gandhi's words that "the best way to find yourself is to lose yourself in the service of others."
Following from that, is a third message that comes from Mother Teresa's life. Favouring deeds over words, she was one who firmly believed in the power of small acts to change lives.
This is a powerful message to all in the fast moving world of the 21st Century, where the complexity of problems our world faces can often lead to despair. It is in the little things—courtesy to others, helping strangers in need, making donations to charities, volunteering our time to help others, that we can begin the process of change. In supporting worthy causes, every bit of effort helps. As the well known South African, the recently retired Archbishop Desmond Tutu, once famously said: "Do your little bit of good where you are; it's those little bits of good put together that can overwhelm the world." They are words with which, I am sure, Mother Teresa would concur.
In conclusion, the life and teachings of Mother Teresa continue to speak to all regardless of one's faith or culture. That her work can dovetail so neatly with the words of a pacifist Hindu religious and political leader and a South African Anglican Bishop speaks of the universality that comes from a respect of humanity and service to others. A century after the birth of Blessed Mother Teresa of Calcutta it is notable for us to join together to celebrate her achievements and to draw inspiration from her life.
And on that note I will close in New Zealand's first language Māori, offering everyone greetings and wishing everyone good health and fortitude in your endeavours. No reira, tēnā koutou, tēnā koutou, kia ora, kia kaha, tēnā koutou katoa.