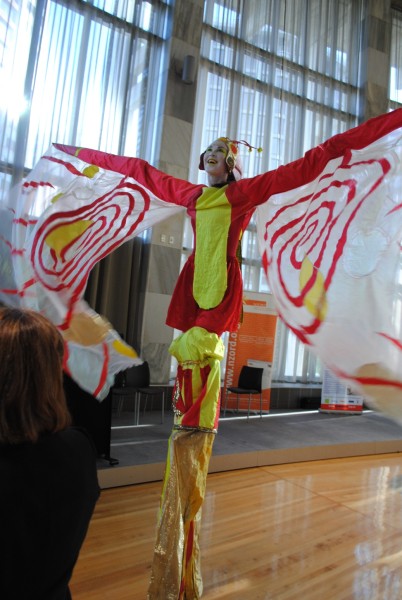 For more photos at this event, click here.
I begin by greeting everyone in the languages of the realm of New Zealand, in English, Māori, Cook Island Māori, Niuean, Tokelauan and New Zealand Sign Language. Greetings, Kia Ora, Kia Orana, Fakalofa Lahi Atu, Taloha Ni and as it is the evening (Sign)
I then specifically greet you: Dr Jackie Blue, Member of Parliament representing our host, Hon Tony Ryall, Minister of Health; Neville Carson and Anna Kemble Welch, The Chair and Director respectively of the DEBRA New Zealand Trust; Jillyan Hing, the Founder of DEBRA New Zealand; Chris Hodson QC and John Forman, Chair and Executive Director respectively of the New Zealand Organisation for Rare Disorders; Others tba; Ladies and Gentlemen.
It was with much pleasure that my wife Susan and I accepted the invitation to be here at Parliament this evening to mark the 30th anniversary of the establishment of the DEBRA New Zealand Trust and the 10th anniversary of the inaugural conference of the New Zealand Organisation for Rare Disorders.
When Susan and I took on what is involved in the Governor-General role, some four years ago, we were approached by many organisations seeking patronage.
Rather than simply accept all those that had held patronage for sometime, we reviewed them all and made a considered decision as to where we felt we could add value.
Some are large organisations with significant staff and budgets, while others are smaller, although no less valuable in the work that they do for the community.
Two community groups that we readily agreed to support were the organisations whose anniversaries we celebrate this evening.
Earlier today, Susan and I hosted an afternoon tea at Government House Vogel in Lower Hutt where we specifically marked 30 years since DEBRA New Zealand was established.
In particular, we acknowledged the work of Jillyan Hing, who set about creating a support group for those living with Epidermolysis Bullosa and their families when her niece, the late Shelley Passey, was diagnosed with the condition in Australia.
EB is a very rare genetic condition in which the skin and internal body linings blister at the slightest knock or rub, causing painful, open wounds.
At its mildest, the blistering is confined to the hands and feet making holding things and walking extremely painful. In more severe forms all the body is affected and the wounds heal very slowly, giving rise to scarring, physical deformity and significant disability.
Jillyan set the wheels turning to create an organisation that not only supports those with this condition and their families, but also distributes the latest research and lobbies government agencies for improved services. It plays a vital role in giving a public and human face to a debilitating condition.
When describing DEBRA New Zealand's work, I said that it played a key role in "connecting the dots." Because EB is relatively rare, it would be very easy for families and those living with the condition to become isolated.
In many ways, NZORD plays a similar role, but in a different way in that allows groups representing those with rare conditions to co-ordinate their activities. It does so in several ways.
First, while each of the organisations and conditions NZORD represents are rare, many share similarities in that they are invariably the result of rare genetic mutations.
As a result, many of the organisations for which NZORD acts as an umbrella group share similar concerns, about adequate and appropriate delivery of services, and to issues related to genetic research.
The second role is, and if you will excuse the marketing analogy, in a crowded marketplace where many organisations are seeking the ear of government, researchers and funders, it would be easy for groups representing less common conditions to be overlooked.
By acting as an umbrella organisation, NZORD ensures that the voices of those living with rare conditions are heard. When the organisation was established 10 years ago, with DEBRA New Zealand as one of its founders, NZORD represented about 30 groups.
A decade later, it works for more than four times that number, giving a human face to issues that the wider public might otherwise not know about. Its work, like the many groups like DEBRA that it represents, reminds us that just because someone lives with a rare disorder, it does not define them or take away from them their inherent humanity.
As Patron of both the DEBRA New Zealand Trust and NZORD, I would like to take this opportunity to thank both organisations for their work and congratulate them on achieving such important anniversaries. By helping the few to live as full and rewarding a life as possible among the many, you enrich us all.
And on that note congratulations, I will close in New Zealand's first language by offering everyone greetings and wishing you all good health and fortitude in your endeavours. No reira, tēnā koutou, tēnā koutou, kia ora, kia kaha, tēnā koutou kato
Last updated:
Thursday, 28 October 2010