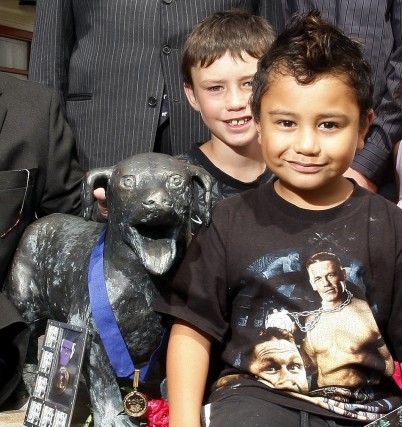 May I begin by greeting everyone in the languages of the realm of New Zealand, in English, Māori, Cook Island Māori, Niuean, Tokelauan and New Zealand Sign Language. Greetings, Kia Ora, Kia Orana, Fakalofa Lahi Atu, Taloha Ni and as it is the afternoon (Sign) May I specifically greet you: Your Worship, Ross Dunlop, Mayor of South Taranaki and fellow councillors and members of the community board; Nicky Baughen from the British High Commission; Distinguished Guests otherwise; Ladies and Gentlemen.
Thank you for inviting me here to Manaia in South Taranaki for this unique ceremony today.
As Governor-General, I have just presented an award on behalf of the PDSA, of a posthumous Gold Medal to the late Jack Russell terrier, George, owned by Alan Gay. The significance of the award is something about which I should speak.
Dogs can be wonderful fun and they can make an enormous contribution to our quality of life. But to many New Zealanders, they are often much more than pets.
Many are working dogs, playing important roles in agriculture or in private security. For example, dogs continue to play an important role with the Police, apprehending suspected felons and finding those who are lost. They also allow people who live with visual or hearing impairments to live more fulfilling lives.
A point regarding dogs was well made by the well known New Zealand media columnist Joe Bennett who once wrote of his two Labradors: "Many of the qualities we love to see in people—loyalty, modesty, zest—are exhibited fulltime in the dogs. Many of the things we do not like to see in people—duplicity, greed, malice—the dogs are innocent of. That is why I cherish my dogs."
Another human quality that dogs show in abundance is courage. And it is because of George's courage, who came to the aid of five children threatened by two pit bull terriers on Sunday 29 April 2007 that we are all present this afternoon.
While George was owned by the children's neighbour, he was a friend to them all and was always welcome in their home.
On that day almost two years ago, George placed his own safety before those of his young companions. Had the pit bulls managed to reach the children it is highly likely they would have suffered serious injuries. Sadly, George's injuries were so serious that his life had to be brought to an end.
But his courageous acts were brought to the attention of the PDSA, Britain's leading veterinary charity, which has decided to make a posthumous award of its Gold Medal. In particular, I acknowledge Stuart Graham and John Dick, who made the formal nomination.
The Gold Medal is equivalent to Britain's George Cross or the New Zealand Cross—the highest honour which can be given for civilian bravery. The Gold Medal, established in 2001, sits alongside the PDSA Dickin Medal, established in 1943 to recognise animal bravery in a theatre of war.
George is the 15th recipient of the Gold Medal and the first overseas recipient. His story typifies not only the spirit of the PDSA Gold Medal, but also the unique companionship that often exists between people and animals.
Sometimes that companionship transcends the ordinary and becomes extraordinary. George was not only an extraordinary dog but exemplified the best qualities of the Jack Russell Terrier, which has often been described as a big dog in a little dog's body.
Sadly this is a posthumous award. Despite the best efforts of his rescuers and the vet who attended to him, he was too severely injured to survive. And so, alongside Mr Gay and the children, we not only share their heartache in losing a companion but also their pride that George's courageous deeds have been so recognised.
I cannot think of better words with which to close, than those of 19th Century English poet Lord Byron who placed a monument over the grave of his dog, Boatswain. On the monument are the famous words: "Near this spot are deposited the remains of one who possessed beauty without vanity, strength without insolence, courage without ferocity, and all the virtues of man, without his vices."
And on that note, I will close in New Zealand's first language Maori, by offering everyone greetings and wishing you all good health and fortitude in your endeavours. No reira, tena koutou, tena koutou, kia ora, kia kaha, tena koutou katoa.
To view more images from the ceremony, click here.
Last updated:
Wednesday, 11 February 2009