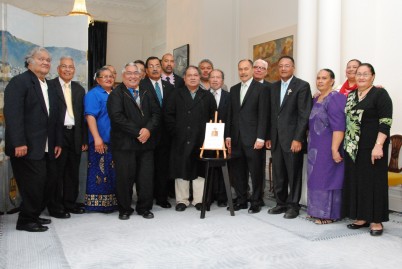 To view more images, click here
The Governor-General, Lt Gen The Rt Hon Sir Jerry Mateparae, presented the Badge of the General Fono of Tokelau to the Ulu-o-Tokelau, Aliki Faipule Salesio Lui, at a ceremony at Government House Wellington on Monday 7 October.
The Badge, approved by theGarter Principal King of Arms and The Queen through the New Zealand Herald of Arms, depicts the national symbol of Tokelau, the Tuluma (a uniquely Tokelauan carved wooden fisherman's tackle box) and the Royal Crown. The white cross in the centre of the Tuluma and the inscription "Tokelau mo te Atua" (Tokelau for God) emphasise the importance of Christianity in everyday life in Tokelau.
The Governor-General, who visited Tokelau last year, said the approval of the Badge by the Queen of New Zealand emphasised the enduring ties between Tokelau and New Zealand and the mana of the General Fono.
"The ceremony to hand over the new badge for Tokelau, which has received Her Majesty's approval, underscored the close and warm relationship between Tokelau and New Zealand. We share our Pacific heritage and our common citizenship in a special association. Aliki Faipule Salesio Lui, the Ulu o Tokelau and his delegation were entrusted with the new Badge for safekeeping and it's return to Tokelau. In a small way I was also able to reciprocate the hospitality I had received when I visit Tokelau last year."
A "badge" is a distinctive heraldic emblem recoreded by the College of Arms in London, which is the heraldic authority for England, Wales, Northern Ireland and much of the Commonwealth including New Zealand. The College also authorises new coats of arms. More information about the College can be found here: http://www.college-of-arms.gov.uk/
The formal heraldic description of the Badge of the General Fono of Tokelau is: "A representation of a Tuluma or carved wooden Fishing Tackle Box proper charged with ten Lozenges conjoined in cross six palewise in pale and four fesswise in fess Argent the whole ensigned by a Royal Crown proper. Below on a scroll "Tokelau mo te Atua."" [Proper = in natural colours; Argent = silver but normally shown as white]
The Ulu-o-Tokelau is the titular head of Tokelau's government and chairs the Council for the Ongoing Government of Tokelau. More information about Tokelau's Government can be found here: http://www.mfat.govt.nz/Countries/Pacific/Tokelau.php#political