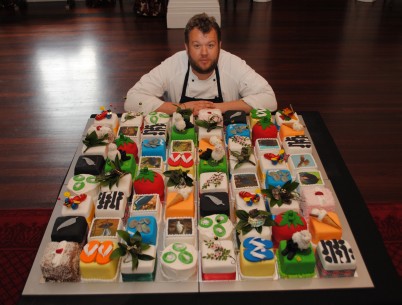 To see more images, click here
A highlight of the celebration for His Royal Highness The Prince of Wales' birthday was the cake created by the Head Chef at Government House, Simon Peacock.
The birthday cake consisted of 64 smaller cakes which were assembled into a single one metre by one metre cake. As it was a Kiwi-themed birthday party, each individual cake was decorated with one of 16 iconic New Zealand images.
Sixty-four was chosen because it was the Prince's age and because 64 New Zealanders were to join him for the party.
The 64 guests were chosen by ballot from more than 1500 applications from adult New Zealanders celebrating their birthday on 14 November.
Each guest who shared their birthday with The Prince and the Governor-General, Sir Jerry Mateparae, received their own individual cake in a specially wrapped box while all other guests left with a piece of cake.
The cake is a combination of an dark fruit cake recipe which has been used at Government House for many years and a light boiled sultana cake from a 1970s Radio Timaru broadcast that Mr Peacock's mother-in-law gave him.
Mr Peacock sought advice from Wellington Guild of Cake Decorators and a number of other cake decorators including Karen Simpson (Strathmore Bakery), Tanya Hugyecz (Decorada) and Pauline Nunns (Iced). The Wairarapa Guild of Cake Decorators were responsible for the sheep and were exhibited at their recent conference.
The images represented:
A silver fern (Decorada)
Hokey pokey ice cream
Tomato squeezy bottles
Pavlova with kiwifruit
Lamingtons
Manuka flowers and honey bees (Iced)
Buzzy bees (Iced)
Sheep and gumboots (Iced and the Wairarapa Guild)
Jandals (Decorada)
Paua shells (Decorada)
Graphic Koru pattern represented throughout parts of Government House
Photographic images of native New Zealand birds including Kiwi, Kea, Falcon, Tui, Kereru, Pukeko, Fantail, Kakapo, Takahe, Hoiho
Recipes
Dark rich fruit cake
To make one large 24cm Square cake
1.5kg mixed dried fruit including sultanas, raisins, currants, cranberries
500g butter
385g brown sugar
8 eggs
1 tblsp golden syrup
4 tblsp blackcurrant jam
500g standard flour
1 tsp baking soda
1 tsp baking powder
½ tsp salt
1 tsp mixed spice
1 tsp ground cinnamon
¼ cup brandy or rum
Place the mixed fruit in a large saucepan and cover with water. Bring to the boil and simmer for 5 minutes. Drain well, cool, cover and stand overnight.
Preheat oven to 150 C. Line a 24 cm squared cake tin with several layers of greaseproof paper.
Beat butter and sugar until smooth but not light and airy. Drop in eggs one at a time to incorporate. Do not be alarmed if mixture appears 'split'. Add golden syrup and jam and mix in.
Sift the dry ingredients together. Add the flour mix and fruit mix in small batches, alternating between the two until all combined. Tip the batter into prepared tin.
Bake for 2 to 3 hours or until firm to the touch and skewer comes out clean. Pour alcohol over while still warm. Cool then store in an air tight container for two weeks to mature.

Boiled sultana cake
Grease and double line a 21 cm square cake tin
Pre heat the oven to 170 C
500g Sultanas
225g butter, diced
285g caster sugar
3 eggs
Pinch salt
340g plain flour
2tsp baking powder
1tsp vanilla or lemon essence
In a heavy bottomed pot barely cover the sultanas with water and slowly boil until almost evaporated. Remove from the heat. Chop in cold diced butter.
Beat the eggs and sugar together in an electric mixer until pale and creamy. Mix through sultana and butter mix.
Sift together flour, baking powder and salt. Add to egg, butter and sultana mix. Lastly stir in essence.
Pour batter in greased tin and smooth even and flat.
Cook in the centre of the oven for around an hour until firm to the touch or until skewer comes out clean.
Last updated:
Wednesday, 14 November 2012