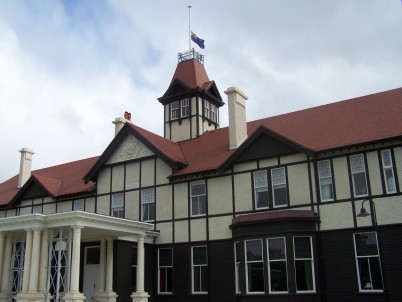 Since 23 February 2011, the New Zealand flag has flown at half-mast from the tower at Government House in Wellington as a mark of respect for those who lost their lives in the latest earthquake to strike Christchurch and the Canterbury region.   Several world leaders, including the Governor-General of Australia, HE Quentin Bryce, have called the Governor-General, Rt Hon Sir Anand Satyanand, to personally express their condolences.  World leaders have sent messages to the New Zealand Government and Government House and some of those messages follow:
HM Queen Elizabeth II, Queen of New Zealand
I have been utterly shocked by the news of another earthquake in Christchurch. Please convey my deep sympathy to the families and friends of those who have been killed; my thoughts are with all those who have been affected by this dreadful event. My thoughts are also with the emergency services and everyone who is assisting in the rescue efforts.
HRH The Prince of Wales
My wife and I were horrified when we heard the news early this morning of a second major earthquake to hit an already damaged Christchurch. The scale of the destruction all but defies belief when we can appreciate only too well how difficult it must have been struggling to come to terms with last year's horror.
At such a terrible time I realize that these words count for very little, but I did so want you to know immediately just how much we feel for all the families and friends of those who have so tragically lost their lives or are still missing.  Our deepest sympathy and constant thoughts are with you and all New Zealanders at such an agonizing time for the whole country.
HRH Prince William
I was truly saddened to learn of the horrendous loss of life and damage that another earthquake has brought to the people of Christchurch.  I join  The Queen and The Prince of Wales in sending my deepest condolences and sympathy to those affected by this tragedy.  I do so admire the bravery and commitment of all Cantabrians, particularly all those who, at this time, are working so hard to save the lives of others.  It is particularly cruel that your famed resolve and strength is being tested again so soon.
Hon Julia Gillard, Prime Minister of Australia
(edited transcript of press conference on 23 February)
As Australians are starting to go about their day this morning I know that their thoughts are with the people of New Zealand as they grapple with this enormous tragedy in Christchurch. It's obviously been a harrowing night in Christchurch for people. There have been aftershocks, and search and rescue efforts are underway to deal with people who are trapped in buildings. There are media reports that there are around 100 people trapped in buildings and search and rescue efforts are trying to get to them.  ….
This is a very, very difficult time for the people of New Zealand. It's also a very difficult time for Australians who are waiting for news.  I think from the images people are seeing on their TV screens, they can get some understand of the conditions in Christchurch. There's a lot of damage. There's a lot of uncertainty about where people are in buildings. There are very dedicated search and rescue efforts underway to get to people.
The people of New Zealand and Christchurch are pulling together to look after each other in evacuation centres, and certainly our officials are there to assist Australians and to get them through in these difficult and trying circumstances.
We will be doing everything we can to work with our New Zealand family, with Prime Minister Key and his emergency services personnel, his military officers, his medical people, his search and rescue teams. We will be working alongside them to give as much relief and assistance to New Zealand as we possibly can…
 
HE S.R. Nathan, President of Singapore
I was greatly distressed to learn of yet another earthquake in Christchurch that caused the heavy loss of lives and extensive damage. Please accept my deepest sympathies, and that of the people of Singapore. Our thoughts and prayers are with you and the people of New Zealand.
Singapore is glad that we can be of assistance to a close friend during this difficult time.  I hope that the Disaster Assistance and Rescue Team DART team from the Singapore Civil Defence Force and the company of soldiers from the Singapore Armed Forces can make a useful contribution to the relief efforts in Christchurch.
Given the resilience of its people, I have no doubt that New Zealand will overcome this tragedy.
HM Carl Gustaf, King of Sweden
I am shocked to learn of the terrible tragedy and loss of life caused by the devastating earthquake in the city of Christchurch.  The Queen and I wish to convey our heartfelt condolences to you, Mr Governor-General, to the bereaved families and to the people of New Zealand.
HM Queen Beatrix, Queen of the Netherlands
Shocked by news of the disastrous earthquake in Christchurch that has claimed so many lives and has caused so much damage, I wish to convey to you my heartfelt sympathy.  I condole with the victims' families.
HE Giorgio Napolitano, President of Italy
The news of the serious consequences of the earthquake that has struck the city of Christchurch, with a tragic and heavy loss of human lives, has deeply saddened me. 
At this very sad time Italy, which has strong ties of friendship with your country, is especially close to the people of New Zealand.
With these sentiments, I wish to convey to you personally and also on behalf of all the Italian people, deepest condolences and the expressions of heartfelt solidarity with the victims of the earthquake.
Professor David de Kretser, Governor of Victoria
I am writing on behalf of the people of Victoria, myself and my wife Jan, to express our sorrow to the citizens of Christchurch at this time. The scenes of destruction and death have greatly distressed us all.  Given the earthquake that occurred last year and the continuing after shocks, now compounded by this latest catastrophic event, one can only barely comprehend the dismay and depression that those affected must feel.
I have no doubt that I speak for all Australians in saying that we stand ready to offer any assistance to help in the recovery.
Our sympathy is with those who have lost family and friends and we pray for the rescue of those still trapped.  To those traumatised by the event, we can only hope that time will help in healing these wounds.
Last updated:
Wednesday, 23 February 2011