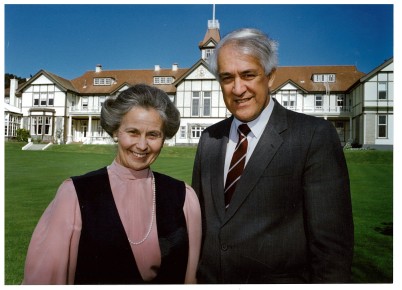 The death of Sir Paul Reeves was a great loss to his family and to New Zealand, says the Governor-General, Rt Hon Sir Anand Satyanand.
"Sir Paul Reeves was a great New Zealander whose death will be mourned by people in New Zealand and many throughout the world. His loss will first and foremost be felt most keenly by Lady Beverley Reeves and their family, to whom he was a devoted husband and father. My wife Susan and I join all New Zealanders in extending our deep and sincere sympathies to the Reeves family.
"While many hope to achieve in one sphere of life, Sir Paul's achievements were all the greater because he made a significant contribution to so many different areas of New Zealand life. He was a remarkable man who brought to all his work a quiet determination and a strong moral compass founded on Christian values and social justice.
"As the Anglican Archbishop of New Zealand, he focused the church on issues of poverty and its relationship with Māori. As New Zealand's first Governor-General of Māori descent, he urged all New Zealanders to re-examine their nation's troubled past, and to build a new future for New Zealand as a partnership under the Treaty of Waitangi.
"He played a key role in the evolution of the Office of Governor-General when, for the first time he represented New Zealand at the head of state level, attending the funeral of Japanese Emperor Hirohito in 1989. He opened Government House in Wellington to the public, hosting the first open day in October 1990.
"On leaving office, he played an international role, representing the Anglican Church at the United Nations in New York, before chairing the Fiji Constitution Review Commission and then as a special envoy to Fiji for The Commonwealth."
To read the Governor-General's tribute delivered at Sir Paul's tangi, click here
To view images from Sir Paul's term as Governor-General, click here
To read a brief biography of Sir Paul, click here
For more information, contact: Antony Paltridge, Public Affairs Manager, Government House on 021 470 583