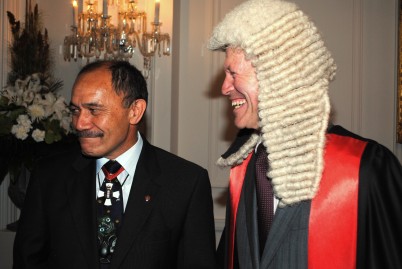 To view more images from the ceremony, click here
The Governor-General, Lt Gen Rt Hon Sir Jerry Mateparae, confirmed the House of Representatives' choice of Speaker at a ceremony at Government House on 20 December 2011.
As well as confirming Dr The Rt Hon Lockwood Smith as Speaker of the House, Sir Jerry Mateparae also confirmed the rights and privileges of the House and authorised Dr Smith to administer the oath or affirmation of allegiance to members of Parliament.
The ceremony was attended by the Prime Minister, Rt Hon John Key, the Chief Justice, Rt Hon Dame Sian Elias, the Leader of the Opposition, David Shearer, and several Ministers of the Crown and members of Parliament.
In his speech, Sir Jerry Mateparae said the origins of the ceremony were steeped in history.
"There has been a Presiding Officer in the Westminster tradition since 1258. Traditionally it carried some risks. History records that no less than seven speakers of the British House of Commons, who had to deliver some unpalatable news to a Monarch, were executed between 1394 and 1535. And so it is understandable that there was some hesitancy to take up the role and I understand, Dr Smith, you showed the traditional reluctance on being nominated."
Sir Jerry Mateparae said the role of Speaker has also evolved.
"From the Crown's representative to the House, the Speaker is now very much the representative of the House to the Crown. That Parliament should choose its own representative was another step in the evolution of our inherited Westminster democracy and its progress from a feudal to a constitutional monarchy."
In congratulating Dr Smith on his appointment, the Governor-General said he had been chosen to undertake one of the central roles in New Zealand's democracy.
"By electing you to this high office, your colleagues have given you the singular responsibility to represent the House to the Crown, to New Zealanders, to other parliaments, and to the wider world."
Last updated:
Tuesday, 20 December 2011