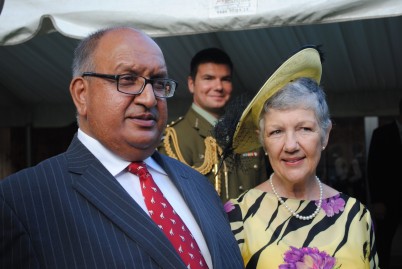 Rt Hon Sir Anand Satyanand marked the signing of the Treaty of Waitangi for the last time as Governor-General by attending events in Northland and Auckland on 4, 5 and 6 February 2011.
Sir Anand and Lady Susan undertook a variety of activities during their time in Waitangi, with the first being a welcome onto Te Tii Marae on Friday 4 February.
On the same day, Sir Anand and Lady Susan visited Bay of Islands College in Kawakawa. This was the first known visit by a Governor-General to the College and was also the first occasion that Sir Anand used an iPad to deliver his speech to the students. Following that, Sir Anand and Lady Susan undertook the Manginangina Kauri Walk, located in the Puketi Forest in Kerikeri. In the evening they attended a reception onboard HMNZS Otago, hosted by the Chief of Navy, Rear Admiral Tony Parr.
Saturday 5 February was equally as busy, with Sir Anand attending the Waitangi National Trust Board luncheon. The Bledisloe Reception followed, which was located on the grounds of the Copthorne Resort and was attended by a variety of guests including the Diplomatic Corps and representatives from central and local government, Māoridom, the judiciary, churches and community groups. As Sir Anand said in his
Bledisloe Address
:
"This gathering is traditionally an opportunity to acknowledge the generous gift to New Zealand of the Treaty House and grounds in 1932 by our predecessors in office: Lord Charles Bledisloe and his wife, Lady Elaine Bledisloe."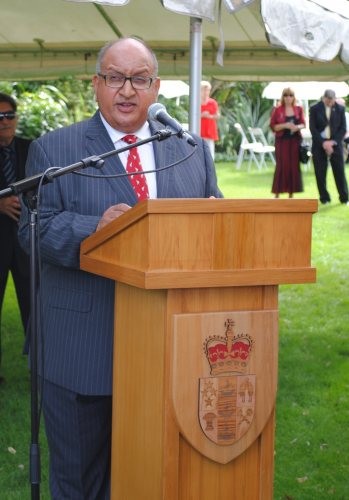 Later that day Sir Anand and Lady Susan attended the Royal New Zealand Navy Beat Retreat and Ceremonial Sunset Ceremony where Sir Anand was Reviewing Officer. To end the day, Sir Anand and Lady Susan enjoyed the Dame Malvina Major and Ray Woolf twilight concert, located on the Waitangi Treaty Grounds.
On Waitangi Day, Sir Anand and Lady Susan attended the Prime Minister's breakfast and then went on to visit charity stalls in the Treaty Grounds. After attending the Interdenominational Church Service at the Treaty Grounds, Their Excellencies returned to Government House Auckland where they hosted the Waitangi Day Garden Party - the gathering where the Governor-General delivered his Waitangi Day Address for 2011.

"It [Waitangi Day] is a story of New Zealanders coming together to enjoy and share their national day—celebrating the many things that makes our country special to us". - Rt Hon Sir Anand Satyanand
Image Galleries featuring Waitangi activities