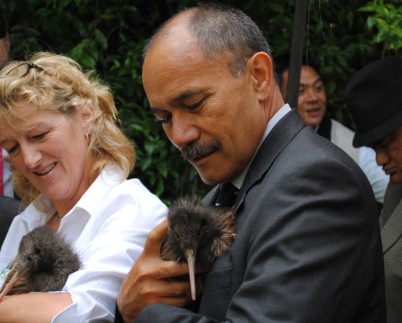 The Governor-General of New Zealand, Lt Gen The Rt Hon Sir Jerry Mateparae, undertook a four day visit to the Western Bay of Plenty region from 13 - 16 March 2012.
Sir Jerry Mateparae began the visit by officially opening the Tauranga Riding for the Disabled Indoor Arena, Te Maru o Ngāti Pukenga, and was formally welcomed to the region by the Tauranga Moana Iwi at Maungatapu Marae.
The four-day programme included visits to the Rena Incident Control Centre, Mount Maunganui College, a kiwifruit orchard in Paengaroa and the Bay of Plenty Polytechnic.
The Governor-General also released two Kiwi into Otanewainuku Forest.
Media Links
13 March
Official Opening of the Tauranga RDA Indoor Arena, Te Maru o Ngāti Pukenga
Speech
Photographs
Formal welcome to the region at Maungatapu (Opopoti) Marae
Speech
Photographs
Reception - Tauranga Chamber of Commerce
Photographs
14 March
Visit to Mount Maunganui College
Speech
Photographs
Visit to the Rena Incident Command Centre
Photographs
Release of two Kiwi into Otanewainuku Forest
Speech
Photographs
1RNZIR (The Gurr Battalion) Reunion Dinner
Speech
15 March
Paengaroa Primary School
Photographs
Visit to the Trinity Lands Trust Kiwifruit Orchard
Photographs
Visit to Apata packhouse and Andaria Avocado orchard
Photographs
Patronage Reception
Photographs
16 March
Visit to the Bay of Plenty Polytechnic
Photographs