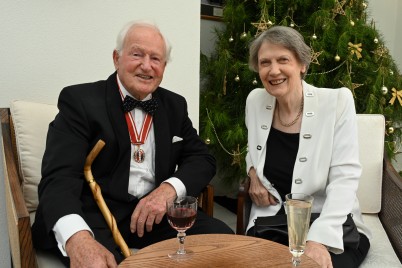 This evening, Dame Cindy hosted a very special dinner for members of the Order of New Zealand, which is New Zealand's highest honour. Members have achieved to the highest level in their respective fields – each have made significant contributions to Aotearoa's cultural, social and political landscapes. The Order of New Zealand consists of no more than 20 living New Zealanders at one time, with additional members awarded the honour to commemorate events of significance. In honour of Queen Elizabeth II's Platinum Jubilee, Dame Silvia Cartwright and Sir Tipene O'Regan were made additional members earlier this year.
Attendees also included former Prime Ministers Helen Clark and Jim Bolger, author Joy Cowley, theologian Professor Sir Lloyd Geering and poet Professor Albert Wendt.
The evening also served as a welcome for Rachel Hayward, the new Secretary and Registrar of the Order of New Zealand; the New Zealand Order of Merit; and the Queen's Service Order. King Charles III approved Ms Hayward's appointment to these roles on the 28th of November 2022.