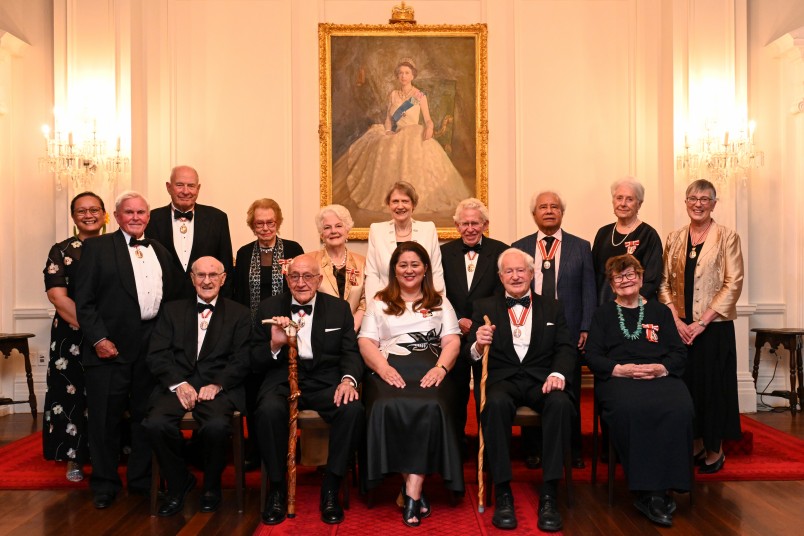 Taku manu korihi i te ata
Korihi ao, korihi po
Kei aku manu taupua
Kei aku kaka tarahae
Aku mihi maioha ki a koutou
Nau mai,
piki mai
kake mai, I runga
I te komuri aroha
[The bird heralds the dawning of a new day as I bid you, our illustrious guests, a warm welcome to this gathering, in recognition of your service to Aotearoa- New Zealand]
Thank you all so much for joining me for tonight's dinner in honour of Her Majesty Queen Elizabeth.
Let me just take this opportunity to first welcome Rachel Hayward, who is here in here in her capacity as Secretary and Registrar of the Order of New Zealand.
King Charles has approved Rachel's appointment to this role, which Rachel assumes in addition to her considerable responsibilities as Cabinet Secretary. Congratulations Rachel!
Tonight's dinner was originally conceived as a tribute to Her Majesty in the 70th year of her reign. All too soon, that remarkable milestone was overtaken by news of her death on the 8th of September.
For the majority of New Zealanders, it was the end of an era: Queen Elizabeth had been Sovereign throughout their lives – and for the foreseeable future, Kings would be on the throne.
Some of you will have vivid memories of interactions with Her Majesty – I hope you will feel free to share some of them tonight.
Less than a year after my audience with the Queen, Sir Don, Sir Tipene, Dame Silvia, Richard and I were in the UK to be amongst the official representatives from Aotearoa at her State funeral.
There were opportunities for final farewells at the lying-in-State in Westminster Hall, the service at Westminster Abbey, and lastly at the more intimate gathering at St George's Chapel in Windsor.
For me, the massive public spectacle of those funeral events was in stark contrast to the private grieving of her family, who were coming to terms with the loss of their loved one.
The transition from one Sovereign to the next has already defined my term of office.
In several of my conversations with King Charles III, he has focussed on his interest in conservation, the environment, and the potential applications of indigenous knowledge for the betterment of us all.
I am looking forward to attending his Coronation and hosting him when he next visits New Zealand.
I know the King is keen to learn how we in Aotearoa are addressing some of the pressing issues of our times.
Queen Elizabeth once said experience helps us take a more balanced view of events and be more understanding about the foibles of human nature.
There is an abundance of collective experience and wisdom represented in this room tonight – and I suspect both your understanding, insights and handling of the foibles of human nature has contributed to your presence as Members of the Order of New Zealand, our highest honour.
You have helped change our nation for the better – and your influence has been felt beyond our shores.
In your own ways, you have all enabled New Zealanders to lift their eyes above the horizon, glimpse new possibilities and see how things might be better.
You have variously modelled excellence, service and leadership; you have challenged us to think more expansively and critically; you have astounded, delighted and inspired us with your talents, creativity and insights into the human condition; and you have served as exemplary models of integrity, compassion and principle.
Thank you for all you have done and continue to do for New Zealand and New Zealanders.
I very much appreciate the effort you have all made to be here tonight – and I welcome you – as the bearers of our nation's highest New Zealand Royal Honour – to join me in honouring Her Majesty's memory, and in marking the beginnings of a new era in our constitutional history.
Last updated:
Saturday, 3 December 2022