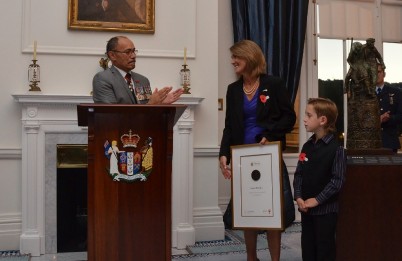 E nga mana, e nga reo, e nga iwi katoa huri noa o Aotearoa, nau mai haere mai. E aku rangatira, nga mihi ki a koutou e whakamana nei, te kaupapa hirahira – tēnā koutou, tēnā koutou tēnā koutou katoa. Distinguished guests from throughout New Zealand, welcome. I acknowledge and welcome your support for this special occasion.
I specifically acknowledge:
Lieutenant General Don McIver, the immediate past President of the Royal New Zealand Returned and Services Association; David Moger, Chief Executive of the RNZRSA; and Sir Brian Lochore and Carol Hirshfeld, my ANZAC of the Year selection co-panellists.– tēnā koutou katoa.
Each year we seek out a New Zealander who lives their life in a way that embodies the Anzac spirit. And so, it is an honour to once again host this Anzac of the Year Award ceremony, in partnership with the RSA, and name the Anzac of the Year.
The spirit of Anzac is embodied in the story, service and life of Private Richard Henderson. The example of Henderson, a 19 year old teacher trainee who used his donkey to carry wounded soldiers to safety at Gallipoli, is central to this award's ethos - hence this statuette.
Thrust into the confusion and calamity of battle at Gallipoli, Henderson displayed incredible fortitude. Surviving Gallipoli, he went on to serve on the Western Front. Henderson's commitment and compassion for his comrades took a considerable toll on his health - he later went blind and battled illness all his life.
Henderson's courage and commitment to getting a job done; and his compassion and care for the wounded remind us that ordinary people can accomplish extraordinary things. His positive, selfless and compassionate example neatly defines the qualities that have come to be known as the Anzac spirit.
Comradeship, compassion, courage and commitment remain touchstones for all New Zealanders. While we acknowledge the Anzac spirit from actions on the Gallipoli battlefield, the ideals and qualities are as relevant and valuable in contemporary New Zealand society as they were on that battlefield one-hundred years ago.
It is now my privilege to announce the recipient of the 2015 Governor-General's Anzac of the Year Award – Ms Louise Nicholas.
Greg Baughen, the Official Secretary at Government House, will read the citation.
Concluding remarks:
Ms Nicholas' personal experience of harm and trauma has resulted in an ongoing commitment to help victims of sexual assault and enabled affirmative cultural change.
By demanding accountability for what happened to her, in the face of considerable opposition and amidst a firestorm of media and public scrutiny, Ms Nicholas demonstrated great courage. That she then used what she had experienced and learned to protect others from harm, to advocate for those affected by sexual crime and to help champion change shows great care and compassion for her sister New Zealanders.
Ms Nicholas' decision to shine a spotlight on a dangerous culture that existed in some pockets of one of our most trusted organisations was a fight not just for herself, but for other women. That she now works with the Police, and other uniformed services, to help them understand the impact of sexual crime, shows remarkable levels of understanding, commitment and purpose.
I will close my comments with these words from the US author and journalist Ernest Hemingway's 'A Farewell to Arms': "Few men are willing to brave the disapproval of their fellows, the censure of their colleagues, the wrath of their society. Moral courage is a rarer commodity than bravery in battle or great intelligence. Yet it is the one essential, vital quality of those who seek to change a world which yields most painfully to change."
Louise, in defining your purpose, you have followed the ideals of the Anzac spirit. You have braved the outrage of personal hurt, used your experience to help other women and men in our society and initiated change for the better. You are an inspiration to other New Zealanders. You are a most fitting Anzac of the Year in this the centenary year of the first Anzac example. Congratulations and I wish you all the best for the future.
Kia kaha kia ora huihui tātou katoa.