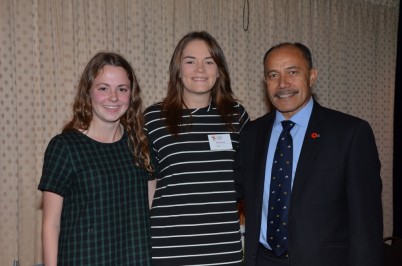 E nga mana, e nga reo, e nga iwi o te motu e huihui nei, tēnei aku mihi māhana ki a koutou. Kia ora tātou katoa.
Distinguished guests, ladies and gentlemen, warm greetings to you all.
I specifically acknowledge: John Ealand, President of the Amputees Federation of New Zealand and Lorraine Peacock, National Coordinator – tenā korua.
I'm delighted to be here this evening, as Patron of the Federation, to open your 68th National Conference.
In thinking about what I might speak about tonight, it became very quickly apparent that the vast majority of New Zealanders would have little inkling of what life is like for amputees. They could only imagine the impact of losing a limb as a result of illness, infection or injury and the adjustment required – mental as well as physical.
The support that this organisation offers to those who have faced such a life-changing event is critical to the life journey and development of amputees and their families.
Necessarily, the Federation has to have a broad remit – to offer peer support, encouragement, information and advice to amputees, to help them receive their artificial limbs and aids, and to act as a source of advice for groups and Government bodies. I commend you all for providing that comprehensive, practical support.
I applaud your judgement in having the Give it a Go! Amputee Youth Camp running alongside the national conference. It's great timing to give hope and encouragement to our Rangatahi – our young people – who have gone through the trauma of losing a limb. That type of initiative is vital, with their lives ahead of them they need focused assistance so they can prosper and succeed.
I'm also pleased that some of the young people here this evening will be taking part in the Camp's exciting activities - kayaking, rock climbing and white water rafting - tomorrow. Understanding that amputees need not be limited by their disability, amputees have choices, and we all have to find work-arounds is best done at an early stage!
This is very much in the spirit of the great Helen Keller, who you may remember was blind and deaf, but nevertheless could say "Life is a daring adventure – or nothing at all". Activities like kayaking, rock climbing and white water rafting are just as much about boosting confidence, creating bonds and developing leadership skills as they are about overcoming physical challenges.
Having read the latest edition of Purpose , I learnt about two inspirational young New Zealanders who are fantastic examples of that.
I am referring to 20 year old medal-winning javelin thrower Holly Robinson, and 17-year-old Dunedin paralympian sprinter and long jumper Anna Grimaldi. Many of you will know that Holly and Anna are preparing for the 2016 Rio Paralympic Games.
Both young women are firmly fixed on winning medals at the 2016 Games, not only for themselves, but also for New Zealand.
On Sunday you will hear from former athlete Ben Lucas. Ben will be familiar to many of us given his current roles include being Chief Executive of the New Zealand Spinal Trust, trustee of the Halberg Disability Sport Foundation and New Zealand's chef de mission for the 2016 Paralympic Games in Rio de Janeiro. He has much to share, and you will no doubt be inspired by what he has to say when he talks about - "Opportunity Knocks".
To close, I want to acknowledge all those who have dedicated their expertise and valuable time to the Amputees Federation of New Zealand. When one person in every thousand has lost a limb, it's good to know the scope of support on offer to amputees to enable them to lead fulfilling lives .
I wish you all the best for a stimulating conference and the exchange of ideas over the two days ahead.
Kia ora huihui tātou katoa.