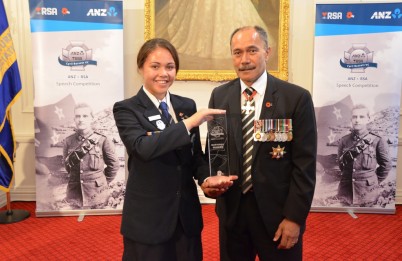 Rau rangatira mā, e hine mā, e tama mā, e huihui nei, tēnei aku mihi māhana ki a koutou. Nau mai haere mai rā ki te Whare Kāwana o Te Whanganui-a-Tara.
Distinguished guests, ladies and gentlemen, warm greetings to you all, and welcome to Government House.
I specifically acknowledge: BJ Clark and David Moger, National President and Chief Executive respectively of the RNZRSA; Peter Parussini, Head of Corporate Affairs and Felicity Evans, General Manager, Human Resources at ANZ; RA David Ledson, Chairman of the National War Memorial Advisory Council; and Lt Gen Don McIver, the immediate past National President of the RNZRSA - tēnā koutou katoa.
It is a great pleasure to welcome you all to Government House today for the Cyril Bassett VC Speech competition. This year there is a special significance to this event. Firstly, in terms of New Zealand's World War One commemorations we will soon mark 100 years since the ANZACs were committed to battle at Gallipoli. Secondly, when Cyril Bassett became the first New Zealander, in the First World War, to be awarded a Victoria Cross it was "for his most conspicuous bravery and devotion to duty on the Chunuk Bair ridge in the Gallipoli Peninsula on 7th August, 1915".
Today we have with us eight accomplished young people from around New Zealand who have excelled in public speaking. They are the regional winners of the competition ready to compete again, this time for national honours.
Each time I have listened to speakers at this competition, I've been impressed by their excellence. It's been a difficult task for the judges to select an overall winner. This year, I'm expecting more of the same. At this point I want to acknowledge Mark Berge, Chief Judge and his two co-judges – Garth Bloomfield and Jacinta Zogg.
However, it's not just winning in the competition that has been important. Participating in it has given all contestants the opportunity to learn more about New Zealand's contribution to the First World War, and the impact the war had on New Zealanders – overseas and at home.
In previous years, the national winner of the Cyril Bassett VC speech competition had the privilege of travelling to Gallipoli for the ANZAC Day commemorations. Last year, I was at Gallipoli on ANZAC Day and met Jack Potaka the 2014 winner. This year, I was delighted to learn that all of today's finalists will head to Turkey next month as part of the contingent of Gallipoli Youth Ambassadors.
The Gallipoli experience, for the eight young people with us today, will be very different from what the young men who landed in that rocky cove under fire experienced one hundred years ago. Having sighted the land features our ANZACs saw and walked the ground where they walked, I anticipate it will be a solemn, moving and yet exciting experience for the eight finalists.
ANZAC Day and visiting Gallipoli have come to have great meaning for New Zealanders. I want to acknowledge the Minister of Veteran's Affairs, Hon Craig Foss; the New Zealand Defence Force; Veterans' Affairs New Zealand and the RNZRSA for their part in making the visit possible for the finalists.
With all eight finalists going to Gallipoli, what then is the defining feature of winning the Cyril Bassett VC speech competition this year? At stake is the singular honour of being named the Cyril Bassett, VC speech competition winner in the centenary year of Bassett winning his VC. That will be an extraordinary accomplishment for the winner.
So, good luck to all the finalists this afternoon.
Kia ora huihui tātou katoa