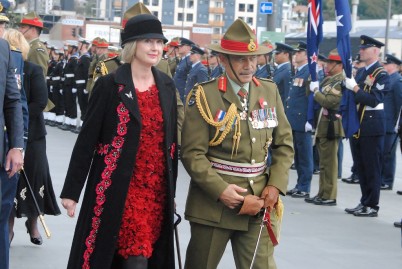 Ka mihi anō ahau ki a koutou katoa e huihui nei ki te whakamaumāhara i te rā o ANZAC me te whakamaumāhara ki a rātou mā i mate ki tēnei pakanga - ngā hoia hoa piri me ngā hoia hoa riri. E kore rawa koutou e warewaretia. Kia ora tātou katoa.
Translation:
I extend greetings to you all again as we join to remember ANZAC day and all those from both sides who lost their lives. We will remember you all. Greetings to us all.
I specifically acknowledge: Hon Tom Marsters, Queen's Representative in the Cook Islands; Hon Bill English, Acting Prime Minister; Senator the Hon Stephen Parry from Australia; HE Ms Caroline Chretian, High Commissioner for Canada and Dean of the Diplomatic Corps, HE Damla Yesim Say, Turkish Ambassador; HE Dr Anne-Marie Scleich, Ambassador of Germany; HE Jean-Luc Bodson, Ambassador of Belgium; Senator Jean-Marie Vanlerenberghe, official French Envoy for Anzac Day; Lord Astor of Hever, the United Kingdom's Representative; Grant Robertson MP, representing the Leader of the Opposition; Her Worship Celia Wade-Brown, Mayor of Wellington; His Worship Frédéric Leturque, Mayor of Arras; Lieutenant General Don McIver, Immediate Past National President, RNZRSA; Corporal Willie Apiata VC; Air Vice Marshal Kevin Short, Vice Chief of the Defence Force; and Vice Admiral David Johnston, Commander of Joint Operations Australai.
Tēnā koutou katoa.

Welcome to our first Anzac Day National Commemorative Service here at Pukeahu, our new National War Memorial Park.
It's an honour to be able to share this occasion on one of our most important days of the year.
We do not gather together to glorify war – but rather to remember the men and women who served their country, and especially those who made the ultimate sacrifice.
After the First World War, the remains of so many of our young men lay, often in unmarked graves, on the other side of the world.
Our memorials were, and remain, shrines for the nation's grief, erected as places where bereaved families and communities could go to pay their respects. And this tradition continues today, all around New Zealand and throughout the Pacific, as we remember our family members who have served in times of war – and wear their medals and a poppy with pride.
This Anzac Day is special. We are marking it on the centenary of the day when the ANZACs first landed in Gallipoli. We acknowledge that gallant generation, and mourn the loss of so many of them.
On that day in Gallipoli, 100 years ago today, New Zealand suffered between 600 and 700 casualties. By the end of the Gallipoli campaign, 2779 New Zealand men had lost their lives. Australia lost 8709, France lost 9798, Canada lost 49 New Foundlanders, British India lost 1358, the United Kingdom lost 34,072, and Turkey lost 86,692.
These statistics become painfully real when we read about individuals, especially about the brothers who went to war. Brothers like the three Holz boys who signed up on the same day. Ernest, William and Allan were sons of a German immigrant. Allan, 24, and Ernest, 33, were killed at the same instant, and their brother William, 30, was wounded at the same time from German shell fire in Pont-de-Nieppe in France on 13 June 1917.
And the Birnie brothers, Robert, John, Charles, William, George and Arthur served their country and exemplify the sacrifice families made. Two brothers, Robert and William, won gallantry medals. Three of the brothers were killed on active service – Robert on 21 October 1916; Charles on 26 August 1917 and Arthur on 14 November 1917. A seventh brother, Gordon, had tried to enlist but was too young. Having six sons serving was a sobering record, and we can only speculate about the heartbreak for their parents, John and Agnes, and the other Birnie siblings.
Here at Pukeahu we're reminded that it's wives and mothers who bear much of the brunt of war. The statues of Hinerangi and the mother and children inside the Hall of Memories evoke both sorrow and the strength and resilience needed to keep those home fires burning. It is memory of that precious warmth and comfort that sustains our servicemen and women.
Our First World War Centennial commemorations are prompting New Zealand families to take an interest in their past, and learn about their forebears' participation in war.
I can vouch that history comes alive when we discover these stories, having been to Gallipoli, and learning about the role my grandfather – my koro – had in the Māori Contingent in the battle for Chunuk Bair.
My message to veterans here today is to pass on your stories. And my message to their families is to record these stories in some way, so that your young people can carry the torch of remembrance into the future.
The poppies we wear today are reminders that the focus of our remembrance must be on the men and women who went to war. They remind us of our duty to support the veterans who are still amongst us; and not to dwell on the rights and wrongs of particular campaigns and wars.
To conclude – I recall the extraordinary compassion and generosity of Mustafa Kemal Ataturk, a victor in the Gallipoli campaign and the first President of modern Turkey. His words will be read by HE Damla Yesim Say at the Ataturk Memorial in Tarakena Bay later today.
I quote: You, the mothers who sent their sons from far away countries, wipe away your tears; your sons are now lying in our bosoms and are in peace. After having lost their lives on this land they become our sons as well.
His words, and the monument which records them, remind us to not only be inspired by the example of our service men and women, but also to value the power of reconciliation and forgiveness to create enduring bonds of friendship and peace between nations. Ka maumahara tonu tātou ki a rātou – we will remember them.