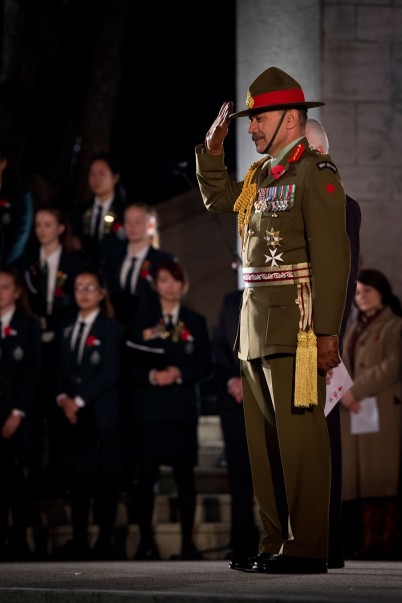 Ka mihi anō ahau ki a koutou katoa e huihui nei ki te whakamaumāhara i te rā o ANZAC me te whakamaumāhara ki a rātou mā i mate ki tēnei pakanga - ngā hoia hoa piri me ngā hoia hoa riri. E kore rawa koutou e warewaretia. Kia ora tātou katoa.
Translation:
I extend greetings to you all again as we join to remember ANZAC day and all those from both sides who lost their lives. We will remember you all. Greetings to us all.

As we gather here at the cusp of dawn I extend a welcome to everyone here this morning: families, veterans, fellow New Zealanders – at this Anzac Day Dawn Service. I specifically acknowledge The Right Honourable John Key, Prime Minister; Her Excellency Damla Yesim Say, Ambassador of the Republic of Turkey; His Excellency Peter Woolcott, High Commissioner of Australia; Rear Admiral John Martin, Chief of Navy; Major General Peter Kelly, Chief of Army; Air Commodore Darryn Webb, Deputy Chief of Air Force; Her Worship Celia Wade-Brown, Mayor of Wellington; Rear Admiral David Ledson (RTD) Chair, National War Memorial Council; and LT Col Ron Turner (RTD), President Wellington RSA.
Up and down the country, at memorials big and small, New Zealanders will be gathering together to remember their loved ones who have served their country in times of war. The same will be true in Australia – Australians will gather as the dawn breaks there. And New Zealanders and Australians will gather in other places around the world, at dawn for Anzac Day.
It is a sacred ritual for us to meet at dawn on this day, because that is when the men of the Australian and New Zealand Army Corps – the ANZACs – first landed on the beaches of Gallipoli, 101 years ago today. We know that the Australians landed first, to be followed, later in the morning, by the New Zealanders.
Just 50 years after the New Zealand Wars and 14 years after the South African War, our young men were again engaged in battle.
Alfred Shout, born here in Wellington, a New Zealand veteran of the South African War, served at Gallipoli with the Australian Imperial Force. He was one of seven men awarded a Victoria Cross at Lone Pine. Shout was an ANZAC.
101 years later, in 2016, we are in the middle year of the commemorative period marking the centennial of the First World War.
The commemorations have cast a spotlight on events that changed our nation forever. They have also sparked a renewed interest in our family histories. We want to know and understand about how our family members were affected by the First World War.
In my own case, I now know more about what my grandfathers did in that War. One of them fought at Gallipoli and then went on to serve on the Western Front. The other also served on the Western Front. Both were wounded, repatriated and medically-discharged before the end of the war.
My new knowledge has profoundly affected my experience of Anzac Day, particularly during my visits to Anzac Cove, Chunuk Bair and the battlefields of Europe. If that is the case for me, I am sure that it will be the same for many other New Zealanders.
There is still much to learn. Only recently, I learned about one group of New Zealanders whose story is not widely known - our Chinese ANZACs. A New Zealand-Chinese soldier - Private James George Paterson of Otahuhu was amongst the first fatalities at Gallipoli on 25 April 1915. Paterson was an ANZAC.
And recently, information has come to light which has completely changed our understanding of New Zealand's contribution to the Gallipoli campaign. We now know that nearly twice as many New Zealanders fought there as was previously thought.
The First World War drew into its vortex of conflict peoples from all over the planet. Those peoples, in all their diversity, are represented amongst 21st century New Zealanders.
New Zealanders may have their origins in very different cultures, speak different languages, and worship in different ways; what we all share in our histories is a tragic legacy of armed conflict and war.
Surely we all wish it were otherwise. Surely, our hope is that there will be a time when war and conflict are consigned to history. And while this may seem a lofty aspiration, surely it is incumbent on us to pursue it.
For now, the reality of our situation is that we still need people who are prepared to serve their country in our Defence Force – in our Navy, Army and Air Force.
Today, we acknowledge the men and women of our Defence Force who serve their country loyally and honourably. Anzac Day is especially significant for New Zealanders who are far from home and family. We wish our service men and women well today, wherever they may be. We also wish that for the men and women from Australia serving their country.
The people gathering across New Zealand this morning are testament to the significance of Anzac Day to 21st century New Zealanders. We imagine the hardships and horrors of war suffered by our forebears. We welcome the opportunity to show respect to them. We commit to a better, safer world for our children and our children's children.
In doing so, we can be thankful that several generations of New Zealanders have been spared the trauma of major conflict. Equally, we can be thankful that we are in a position to offer a haven for those who have not known such peace in their countries of birth.
We recall that in wartime, dawn is a time of tense anticipation about what the day might bring.
We reflect that in peacetime, dawn is a time of quiet, reflection, tranquillity, and above all, hope.
On this 100th Anzac Day, as the first shafts of light appear in the sky, let us renew our vow to remember those who have paid the ultimate sacrifice and those who came home changed by their experiences. We should also affirm our hope for a more peaceful and caring world.
Ka maumahara tonu tātou ki a rātou – we will remember them.