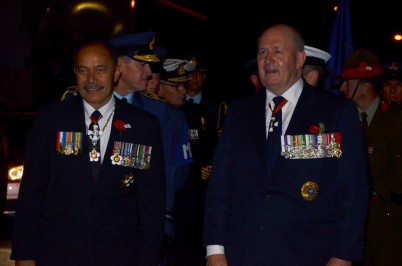 Ka mihi anō ahau ki a koutou katoa e huihui nei ki te whakamaumāhara i te rā o ANZAC me te whakamaumāhara ki a rātou mā i mate ki tēnei pakanga - ngā hoia hoa piri me ngā hoia hoa riri. E kore rawa koutou e warewaretia. Kia ora tātou katoa.
Translation:
I extend greetings to you all again as we join to remember ANZAC day and all those from both sides who lost their lives. We will remember you all. Greetings to us all.
I specifically acknowledge General The Hon Sir Peter Cosgrove, Governor-General of the Commonwealth of Australia; Hon Tom Marsters, the Queen's representative from the Cook Islands; Hon Bill English, Deputy Prime Minister; Her Excellency Damla Yesim Say, Turkish Ambassador; Lord Astor of Hever, UK Representative; Senator Jean-Marie Vanlerenberghe, official French Envoy for Anzac Day; Grant Robertson MP, representing the Leader of the Opposition; Air Vice-Marshall Kevin Short, Vice Chief of Defence Force; and Corporal Willie Apiata VC; and veterans gathered here today.

One hundred years ago today, Australian and New Zealand troops – the ANZACs – shared an experience which would change both nations forever – the Gallipoli landings.
On this momentous anniversary, it's a great honour and a privilege, and highly appropriate – to be standing alongside the Governor-General of Australia, Sir Peter Cosgrove, at this dawn service.
I can think of no finer way of acknowledging this centenary of our trans-Tasman military relationship – here at our new National War Memorial Park, and in front of this magnificent memorial to our trans-Tasman friends.
Similarly, it is fitting that the Queen's Representative from the Cook Islands, Hon Tom Marsters, is here as we recall the 26 Cook Islanders and 16 Niueans on the Pacific Islanders First World War Roll of Honour. Our being together is an appropriate way to usher in a new era for our National War Memorial, for this to be our first commemorative service on this plaza.
If we cast our minds back to this day 100 years ago, all the long months of training and preparation were about to be tested on the field of battle. The ANZACs would have been feeling all kinds of emotions and wondering how the day would unfold for them.
For most, it would be their first taste of war. For many hundreds of them, it would also be their last.
With the dawn of a new day, the Australians landed, knowing that the New Zealanders would be coming in later to help secure the bridgehead.
A sergeant in the New Zealand artillery, Frank Cooper, witnessed the Australian landing. He was deeply impressed with their pluck and determination. "They left us with their packs on their backs and ammunition but on reaching the shore they simply threw all aside on the beach or in the water and fixed bayonets and charged up the hill under an awful fire of rifle or shrapnel that was bad enough to witness, let alone be under it on the shore".
Historian Christopher Pugsley notes that all New Zealand soldiers' diaries and letters of that day recorded their admiration for the Australians. Fred Waite wrote: "At Anzac we found our brothers-in-arms, the gallant sons of Australia, and we did our work together".
Today, Australians and New Zealanders remember that shared experience at services in both our countries, in Gallipoli, and indeed wherever they may be around the world.
This is our day to pause and reflect, to honour and remember all those who have served their country in all wars and, in particular, those who have lost their lives in executing that duty.
I would like us all to think of our service men and women, wherever they are today, and wish them well.
There can be no more moving Anzac Day commemoration than what soldiers experience on operations.
And on many of those special Anzac Days, our mates from across the Tasman have again been by our sides, remembering other occasions when we have served alongside each other: prior to the First World War, in the South African War of 1899 to 1902; as the ANZAC Corps during the Greek campaign of 1941; in the Korean War, the Malayan Emergency, the Confrontation with Indonesia, Vietnam and Afghanistan.
We were both part of the international coalition in the First Gulf War and we have served together in peace-keeping missions in the Middle East, Africa and Asia. And closer to home we have served together on peacekeeping operations in East Timor and on Bougainville.
A Second World War story from Crete conveys the strength of our special Anzac relationship. Australian Private Bill Gilbey met New Zealander Private Clarie Nicholl in 1941 after they had both escaped from German prisoner-of-war camps. They were on the run and desperate to get off the island.
One day, Private Nicholl collapsed, obviously in intense pain. His Australian mate realised that in order to get urgent medical attention, they would have to give themselves up to the enemy. That meant carrying Private Nicholl nearly 13 kilometres to a village where German troops were stationed.
Private Gilbey stayed by his mate's side until his death two days later. As he fully expected, Private Gilbey spent the rest of the war in a prisoner-of-war camp. After the war, he kept a promise to Private Nicholl to go to New Zealand and return a photograph of his girlfriend to her.
In his actions, he showed the qualities we have come to identify as part of the Anzac spirit: courage, compassion and mateship in the face of adversity. And he showed that in the midst of the horrors of war, moments of astonishing humanity emerge.
For me, it is those human connections that we are commemorating today and so I am pleased to be able to return the gesture of Sir Peter Cosgrove and to take my place beside him at commemorations in Australia later today.
As the sun rises here, we remember our brave men and women. When the sun sets in Canberra this evening, we will remember them – and we will affirm the strength of our bonds forged in Gallipoli – and holding fast until this day.
Ka maumahara tonu tātou ki a rātou – we will remember them!