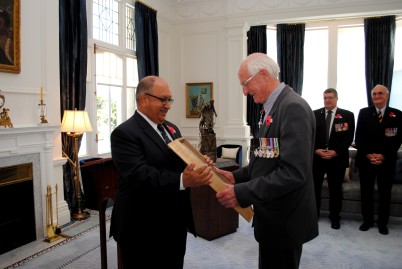 To view more images from the ceremony, click here
I begin by greeting everyone in the languages of the realm of New Zealand, in English, Māori, Cook Island Māori, Niuean, Tokelauan and New Zealand Sign Language. Greetings, Kia Ora, Kia Orana, Fakalofa Lahi Atu, Taloha Ni and as it is the morning (Sign)
I then specifically greet you: General (Rtd) Don McIver, National President of the Royal New Zealand Returned and Services Association and members of your National Executive; Rear Admiral Jack Steer, Vice Chief of Defence; Distinguished Guests otherwise; Ladies and Gentlemen.
It is a great pleasure for Susan and I to welcome you all to Government House in Wellington for this ceremony to announce the 2nd ANZAC of the Year.
Just before announcing the person to receive the award and reading the citation, I would like to briefly comment on the significance of this award and the work of the selection panel.
In four days time, New Zealanders will gather at war memorials throughout to mark ANZAC Day and the 96th anniversary of the ill-fated landings at Gallipoli in 1915. They will also commemorate all those other men and women who have served and died in the service of their country, standing up for the democratic freedoms we all hold dear.
ANZAC Day, however, has come to symbolise considerably more. There are many who argue persuasively that it was in that place of conflict and death on the Cannakale peninsula that New Zealand defined itself as a nation, and that it was there, with our soldiers fighting alongside the Australians, that the strong bond with that country was confirmed.
ANZAC Day has also come to underpin some of best qualities to which we as New Zealanders aspire. They are summarised by four words—comradeship, compassion, courage and commitment.
The person I am about to announce as the 2nd recipient of the ANZAC of the Year Award has demonstrated these qualities throughout his life and lengthy service.
All nominees were of the highest quality, and the selection panel of which I was a member faced a difficult task. In the end we made a unanimous decision. While this year's recipient is a distinguished veteran, his service to the community extends beyond his military career. Unusually we received two independent nominations for the veteran we have chosen, which says something about his standing in the community.
Ladies and gentlemen, it gives me great pleasure to announce the 2011 ANZAC of the Year is Brigadier (Retired) Dr Brian Thomas McMahon. I will now read the citation:
The quintessential New Zealand citizen soldier Brigadier (Retired) Dr Brian Thomas McMahon is the 2011 Anzac of the Year.

Brian McMahon has exhibited the qualities of comradeship, compassion, courage and commitment throughout 60 years of service to his fellow citizens, his comrades-in-arms and those he has served through his activities in international aid projects. He is a dedicated professional whose commitment and compassion shows through in his care to his fellow servicemen and women and their dependants, for those he has touched in his profession as a doctor, and for those he has touched in aid activities in Vietnam and the Pacific Islands.

Brigadier McMahon served in the New Zealand Defence Force for more than 40 years, including active service as a Medical Officer in the 1st New Zealand Services Medical Team in Vietnam in 1969. His distinguished military medical career culminated with his appointment in 1980 as Director General Defence Medical Services with the rank of brigadier. Even in retirement, he remains active within the Defence Medical Services as Colonel-Commandant of the Royal New Zealand Army Medical Corps from as well as a frequent guest lecturer to new generations of medics on tertiary level health courses.

Brigadier McMahon's military career was followed by a distinguished medical career. He maintained a prominent health leadership role as medical superintendent of Wakari Hospital and then Dunedin Hospital as well as Medical Officer of Health Otago Southland and as a senior lecturer at Otago Medical School. Once again, in retirement, Dr McMahon continues to mentor and teach medical students and has been a powerful influence on the careers of many successful medical professionals, both in the military and civilian settings.

In the wider community, Dr McMahon provided his expertise as a medical advisor to four separate service organisations: Ministry of Civil Defence 1980-84, The Order of St. John 1980-93, New Zealand Red Cross 1981-84, and the New Zealand Surf Life Saving Association 1981-84.

Internationally, Dr Brian McMahon is an active member of Leprosy Trust Board Fiji based in Suva. He has undertaken leprosy missions in the South West Pacific and South East Asia first as Chairman, and then as the medical advisor to the Christchurch-based Pacific Leprosy Foundation—an activity he continues to undertake.

Dr McMahon remains actively involved as Patron of the New Zealand Vietnam Health Trust established by the Medical Corps and civilian personnel who worked in Vietnam during the war. The Trust has operated in close co-operation with Volunteer Services Abroad, the Ministry of Foreign Affairs and Trade and later the New Zealand Agency for International Development. Brian was Chairman of the Trust from 1988 to 1990 and has regularly travelled to the Binh Dinh Province to assist with and assess Trust projects in Qui Nhon, Qui Hoa Leprosarium and orthopaedics in Bong Son.

In support of his fellow veterans, Dr McMahon serves as a member of the Board of Trustees and a former Chair of the Montecillo Trust responsible for the Montecillo Veterans Home and Hospital. Today, he continues to serve the veteran community as a member of the War Pensions Appeal Board.

Brian McMahon has demonstrated the spirit of Anzac in his lifetime of service to the army, to the nation, and to the international community as soldier, citizen, doctor and humanitarian – a true Anzac.
And on that note, I will close in New Zealand's first language Māori, by offering everyone greetings and wishing you all good health and fortitude in your endeavours. No reira, tēnā koutou, tēnā koutou, kia ora, kia kaha, tēnā koutou katoa.
I would now like to invite Brigadier McMahon to come forward to receive the award.