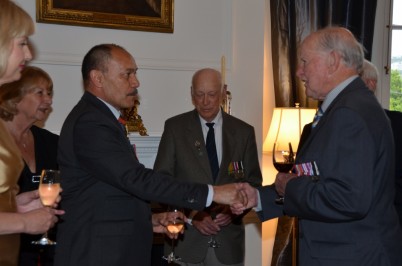 Tihei mauri ora! Rau rangatira mā e huihui nei, nga mihi māhana ki a koutou. Te manuhiri tuārangi, te manuhiri waewaetapu naumai haere mai. Tēnā koutou i tēnei hui, e maumahara ana i te whakamutunga o te pakanga tuatahi – Armistice Day. No reira, Naumai haere mai rā ki te Whare Kawana o Te Whanganui-a-Tara.
Distinguished guests, I extend warm greetings to you all. I welcome those of you who have travelled to be here, and those who are at Government House for the first time, as we commemorate Armistice Day. Welcome to Government House.
I specifically acknowledge: the Minister of Veterans Affairs, Hon Craig Foss and Mrs Kristal Foss; Chief of Defence Force, Lt General Tim Keating and Mrs Brenda Keating; Chief of Navy, RA Jack Steer; Chief of Army, MG Dave Gawn and Mrs Anna Gawn; Chief of Air Force, AVM Mike Yardley; WO of Defence Force Danny Broughton and Mrs Jacqui Broughton; WO Navy, Steve Bourke; WO Army, Mark Mortiboy and Mrs Wendy Mortiboy; WO Air Force, Mark Harwood; and BJ Clark and David Moger the National President and the Chief Executive respectively of the Royal New Zealand Returned and Services Association.
Tēnā koutou katoa.
Janine and I are delighted to welcome you all to Government House this evening on the eve of a momentous day in world history – Armistice Day – when Germany signed an armistice with the Allied Powers to end the First World War.
With no surviving veterans of the First World War, it is most appropriate to have with us veterans - servicemen and women - from the Second World War through to the present day. You are all the inheritors of their example of service, commitment, courage, camaraderie and compassion. And, you are standard-setters for all New Zealanders. On this occasion, and on behalf of your fellow New Zealanders, I want to take this opportunity to acknowledge the part you have played in the military endeavours and history of our country. I want to thank you for your service to our country.
Your example shows that while New Zealand may be a small country on the edge of the world, the extent of its global-connectedness, social conscience and military engagement is outstanding. We have veterans of the Second World War, Japan, Korea, Malaya, Borneo and Vietnam.
Equally, we have with us representatives of our peacekeepers and those who have served on humanitarian operations in all continents since 1945.
This year Janine and I particularly appreciated the opportunity to travel to Gallipoli, Monte Cassino and Normandy. We value the time spent with our World War 2 veterans at commemorations in Europe. It's great to see Cassino veteran, Terrence Flanagan – who was unable to make that journey, but made it here tonight – along with other Second World War veterans: Hugh Findlater, Neil Harton, Keith Laird, Gerard Lowe, Roger Maclean, and Carl Smith.
Whether military service was the high point of your life, something you did out of a sense adventure or perception of duty, for most people it's when they found out what commitment is. We found out what we could achieve through disciplined service and the reserves we could draw upon for our mates: whether that be duty, camaraderie or courage.
The nature of war and conflict, and its political dimensions, continue to evolve. However, the realities for sailors, soldiers and aviators remain the same.
They experience the nasty business that is war. They experience moments of terror and moments of calm and the moments of compassion and comradeship. Lives are forever altered by their experiences.
A hundred years ago today, New Zealand and Australian troops were at sea on their way to the battlefields in the northern hemisphere. When they boarded their troopships, they had no idea when they would be coming home. Some were nervous of the unknown. Some were anxious that they might miss the war. Nonetheless, they were full of high hopes that the war would all be over quickly.
Tomorrow will be an opportunity to think what the armistice meant to the 52,000 New Zealand troops who were in France, the Middle East, England and Egypt on 11 November 1918.
The announcement was not greeted with any particular expressions of joy and relief on the Western Front. Just one week before, 90 New Zealanders had lost their lives in the liberation of Le Quesnoy; and ceasefires could easily be broken. Major Lindsay Inglis MC summed it up in a letter home, when he wrote: "We seem just to have slid from war into peace. Our routine is exactly the same as that of a division in reserve…The job feels over and I for one am impatient to be quit of it."
It was a different story back in New Zealand. The public had jumped the gun, so to speak. They'd taken the opportunity to celebrate Armistice four times already – after the surrenders of Bulgaria, Austro-Hungary, and Turkey, and after a false report on the 8th of November that Germany had surrendered. On the 12th of November, when the news was correctly signalled in Wellington with a gun salute, the Governor-General, Lord Liverpool read the formal declaration on the steps of the Parliamentary Library.
Around the country, people streamed into the streets to celebrate – there was great jubilation and public rejoicing.
Ninety-six years on, what will Armistice Day mean tomorrow?
I hope at 11 am tomorrow, we will pause and reflect on the terrible loss of millions of lives in the First World War and in subsequent major conflicts of the 20th and 21st century. Similarly, we can acknowledge how fortunate we are that our young people have not been called upon to face such horrors.
It will be an opportunity to recall the bonds we forged with our allies and the friendships we have today with our old foes. The example of the Anzacs is enduring and powerful. The notion of Anzac is evocative of the strong bonds we share with our Australian cousins, and our sense of what it is to be a New Zealander.
It will also be an opportunity to think about where we stand today. The fraternity formed at places like Gallipoli, with one-time foes. We are fortunate not to have experienced global wars since 1945. Unfortunately, we are still confronted with threats that have a global reach.
Our seat on the Security Council at the United Nations means that for the next two years we will be at the table when decisions are being made about the role of United Nations and security challenges around the world.
We will be contributing to deliberation and resolution of international and regional conflicts, to trans-national threats and terrorism.
What part our armed forces will play in future global security is yet to be determined. However, I am sure all the veterans here tonight will join with me in wishing the CDF, the Service Chiefs and their people well in their vital work as they carry the mantle of our military example heritage on into the 21st Century.
Kia ora, kia kaha, kia manawanui, huihui tātou katoa