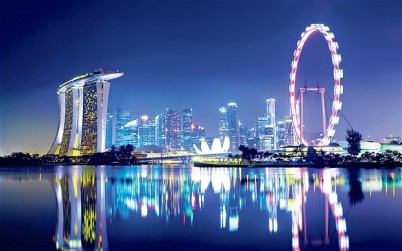 Rau rangatira mā, e hui hui mai nei; tēnei ngā mihi māhana, a māua ko Janine.
Distinguished guests, Janine and I extend warm greetings to you all. It is great for Janine and me to be back in Singapore.
I would like to specifically acknowledge Mr Gan Kim Yong, Minister for Health, Mrs Esther Gan, and the ASEAN recipients.
On a personal note, I must say that coming to Singapore always feels like something of a homecoming. We have strong links with this country and it is always a pleasure to come back and visit old haunts and see new developments. I spent more than four years here and like our Prime Minister, Rt Hon John Key, I am able to say that one of my children was born here.
Before I continue, I would like to take a moment to acknowledge the passing of Singapore's first Prime Minister, Mr Lee Kuan Yew. Mr Lee's exceptional vision is evident in the confident, vibrant Singapore of today. I was honoured to attend his funeral earlier in the year on behalf of the people and Government of New Zealand. Mr Lee was the PM when I lived here.
Living here was a formative experience for me. I was a young army officer and completed two two-year postings here. During my first stint here I completed two important training courses – and I was the first international officer to do one of them; the Combined Armoured and Infantry Officers Advanced Course.
I recall that as we were discussing a tactical problem, the discussion moved in to real-time and classified information. The discussion continued until our instructor realised what was being revealed. He stopped the class and dismissed us students. After our lunch break and approval from MINDEF, the course and discussion resumed – albeit moderated. The element of trust, in me and New Zealand, has stuck with me these past 35 years.
In 2011, I was honoured to be presented with a Service Award from Singapore by President Nathan.
It is not surprising that New Zealanders feel a strong affinity with Asia. Over many millennia, people from Asia moved across the Pacific Ocean and that ancestry is deeply embedded in our Pacific DNA. This was confirmed for me in a very real way when I participated in the National Geographic Genome Project, and learned that much of my ancient roots are connected to Asia.
This year, we can celebrate significant milestones in the history of Singapore and in the relationship between our two nations. It is 50 years since Singapore became independent, and 50 years since diplomatic relations were established between Singapore and New Zealand.
In the intervening years, our shared story is one of partnership, resilience and innovation. We have cooperated bilaterally on regional and global issues including defence and security, the environment, trade, education, and tourism. And we have shared views, positions and action in multi-lateral fora.
2015 also marks the 40th Anniversary of New Zealand's relations with ASEAN as a dialogue partner. It is the celebration of this milestone that brings us here tonight.
In 1975, New Zealand became one of ASEAN's first dialogue partners. Accordingly, we are taking the opportunity to celebrate that shared journey, as we plan a closer and stronger future together. Our relationship is thriving on a number of levels.
Our economies have become more integrated. Since 1975, two-way trade between New Zealand and ASEAN has gone from US$133 million to US$11.8 billion per year. That's almost a 100-fold increase in 40 years.
Our people-to-people links with the inaugural ASEAN nations were firmly established during the Colombo Plan. They have grown and flourished as ASEAN has grown and flourished. The ASEAN region is now one of New Zealand's most significant sources of tourists, students and migrants.
Today in New Zealand we have a vibrant community of around 80,000 people of South East Asian origin, including almost 1000 Singaporeans who have made New Zealand their home. In our 2013 census, 5,370 people identified themselves as being born in Singapore.
Looking beyond 2015, we are committed to opening still another chapter with ASEAN. We want to lift our engagement in areas of mutual strength and value such as leadership, education and training, agriculture and trade.
I also want to acknowledge what an important year this is for ASEAN as it works towards the establishment of the ASEAN Community at the end of this year. This is a significant milestone in ASEAN's pathway towards an integrated, prosperous and secure community of nations. New Zealand is looking forward to working with ASEAN as it implements this vision.
Our goal is to continue to build partnerships of value – with Singapore, and with the wider region. These partnerships start with, and ultimately depend on, committed individuals.
This year, at events like this in all ten ASEAN capitals, New Zealand will thank 40 leading figures in ASEAN for their contributions to the rich relationship New Zealand enjoys with the region.
Tonight's awards recognise the special character of our ties in diverse areas. They honour individuals who embody our special relationship, people who have reinforced its value, not just between our two countries, but also in the region.
I am delighted now to help honour five individuals as recipients of the inaugural New Zealand ASEAN 40th Anniversary Awards. They have helped build depth and value to New Zealand's relations with Singapore, and therefore with the wider community of nations within ASEAN.
Tonight, on behalf of New Zealand I would like honour:
Mr Stanley Tan: CEO Global Yellow Pages, Asia – New Zealand Foundation Honorary Adviser.
Dr Ong Poh Seng: Former CEO, South East Asia Region, New Zealand Dairy Board.
Dr William Tan: Neuroscientist, medical doctor and Paralympic wheelchair athlete.
Mr Lee Chuan Seng: Emeritus Chairman Asia, Beca, Advisory Board Chair of the New Zealand Trade and Enterprise Beachheads Programme in SE Asia.
Mr Goh Choon Phong: CEO Singapore Airlines.