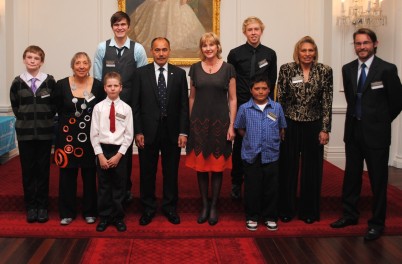 For more images, click here.
Introduction and acknowledgements

E nga mana, e nga reo, e nga iwi kātoa huri noa o Aotearoa e huihui nei, tēnei aku mihi māhana ki a koutou, kia ora tātou katoa. Distinguished guests from throughout New Zealand, warm greetings to you all.

I want to specifically acknowledge: Ian Town and Angela Francis, President and Chief Executive respectively of the Asthma Foundation – tena korua; and Sam and June Jackson, Asthma Foundation kaumatua and kuia – tena korua. The Honourable Georgina te Heuheu, Minister of the Crown – tena koe Minita. Can I also acknowledge the award recipients who are the most special attendees tonight – tena koutou.

It is a real pleasure for Janine and me to welcome you all to Government House this evening. With a rich 50-year heritage, the Asthma Foundation is a community organisation that protects those things that are most important to New Zealanders – health and well-being. The catch-phrase "Better respiratory health for all New Zealanders" represents this organisation's commitment superbly.

Connections
That commitment is a reason that vice-regal patronage of the Asthma Foundation has endured for more than 20 years. It began in 1985, with Sir Paul Reeves, who lived with asthma. More recently the Foundation, under the patronage of my immediate predecessor Sir Anand Satyanand, held its last awards in 2009 at Premier House while this House was being strengthened and refurbished. So it is good to welcome you back to Government House where it is my privilege to present the Supreme Achievers Awards to nine inspirational New Zealanders.

Asthma
Asthma, and other respiratory illnesses, are more common than many people realise. With more than 800,000 kiwis affected New Zealand has the second highest prevalence of asthma in the world, after Britain. While my family and I have not had to deal with asthma, I know that one in four of New Zealand's tamariki – our most precious taonga - experience it to varying degrees.

Asthma poses significant obstacles for sufferers to overcome. There are challenges requiring physical stamina, sometimes herculean. There is sometimes a stigma associated with having even a slight asthma tendency that affect people wanting to serve our country. In my previous career with the New Zealand Defence Force, it is the case that if a person has or had asthma it is exceptionally difficult to join. There were moves to address this, although they were slow in progressing.

While there is no cure available, and its causes are not clear, it is a condition that can be managed with support from the medical community and the Asthma Foundation and its 17 affiliated societies and branches.

Excellence
Each year, since 1999, the Foundation has recognised inspiring individuals that have not let their condition stop them from achieving excellence. Every recipient has displayed excellence in the activities they are passionate about. With the youngest awardee at 10 years old, and the eldest at 76, it shows how a respiratory illness affects people of any age.

Each of the Supreme Achievers has an inspiring story. Their achievements are many and varied. For example, a 60-year old competed in the World Ironman Championships in Hawai'i, while another at 11 years of age is the top ranked diver for his age in New Zealand. One recipient is a 76-year-old physically active mentor and motivational speaker, while another lives with cystic fibrosis and makes an outstanding contribution to his community.

There is one awardee here today whom I think deserves special mention. As the youngest recipient, 10-year old Harlem Morrell-Wilson's story is one of bravery and resilience. The Children's Commissioner, Dr Russell Wills who is also Harlem's consultant paediatrician, wrote to tell me how brave you are Harlem, and how neat your nan Moira has been in helping you.

As you will hear, the men, women and children that we recognise today are truly exceptional achievers. Despite the inevitable barriers that they have faced with having asthma or some other debilitating respiratory condition, they have never let their illness become a barrier to their success. It would be easy to let their condition rule their lives. That is not what has happened here. The people we are celebrating this evening have refused to be overruled by asthma.

Today is a special day for the recipients, and their families, friends and supporters. I want to offer my congratulations to each person receiving an award this evening. You represent the best of New Zealand and its people. You can be extremely proud of overcoming the significant challenges you face every day and for your supreme achievement.

Kia ora huihui tātou katoa.
Last updated:
Tuesday, 22 November 2011