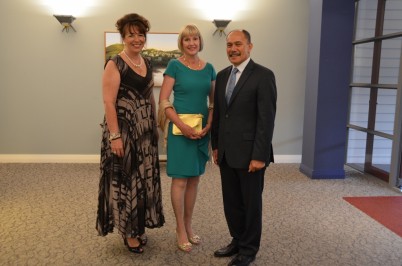 Kia ora tātou. Greetings to you all.
I specifically acknowledge: Victoria Carter, Chair of the Board of the Auckland Arts Festival; David Inns, Chief Executive; and Carla van Zon, Artistic Director.
Janine and I are pleased to welcome you all to Government House this evening, and to take this opportunity to recognise the sponsors, funders and supporters who have helped to bring the Auckland Arts Festival to the people of New Zealand.
The New Zealand painter Michael Smither once described artistic inspiration as "like a window opening into a new world".
Tonight's event is to thank you for your commitment and generosity in enabling artists to open windows and allow others to glimpse and affirm qualities which make us human.
I think there is something very special about seeing New Zealand artists perform in an international setting. Those New Zealand artists who are fortunate to take part in this Auckland Arts Festival will undoubtedly grow and develop from their experience. They will benefit from taking their place alongside the best artists the world has to offer.
And I think it is a real treat to be able to see international artists come here bringing their performances and their culture to New Zealand. It's a marvellous opportunity for New Zealand audiences to be exposed to talent events which we might otherwise never see.
Like many others, Janine and I are really looking forward to seeing Blam and Skin of Fire tomorrow night.

So it's not just Aucklanders who will benefit from this Festival. Thousands of New Zealanders will be thrilled, moved and amused by world-class artistic performances.
Our Queen City is certainly a vibrant place with a fantastic cultural diversity. Thank you for ensuring that Auckland, and New Zealand, has a high calibre artistic event through which others may see many new worlds.
I wish you all the very best for this 2015 Festival, and for those to come.
Kia ora huihui tātou katoa and please enjoy the hospitality of Government House.