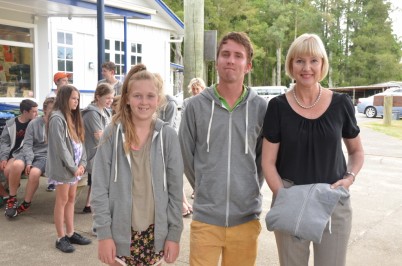 Good morning. I would like to acknowledge Mr Brian Poole, Chairman of Crohn's and Colitis.

As patron of Crohn's and Colitis New Zealand I'm really pleased to be here for two main reasons. First, this is an opportunity to see how Purple Live 2015 has gone. I can tell just by looking at you that you've had a great time and I'm sure you're going home with some good stories to tell. Secondly, through my visit I want to help raise awareness of Crohn's and Colitis NZ and its work for those who live with Inflammatory Bowel Disease.

My husband, the Governor-General, and I are patrons of many New Zealand organisations. They include sports teams (cricket, netball), conservation organisations (Forest and Bird), youth groups (Guides, Scouts), arts and cultural groups (the RNZ Ballet and Auckland Arts Festival), heritage organisations (Antarctic Heritage Trust), charities (Peace Foundation, Save the Children) and health and disability organisations (Multiple Sclerosis, Stroke Foundation and Crohn's and Colitis). The Governor-General has quite a few more patronages than me, which keep him busy. I have 12 patronages (for example the Kapiti Vaulting Club, Rural Women, Girl Guides Orpheus Choir and Birthright) and I share another 10 with my husband. It's important to us that we get out and see what's happening with the organisations we support and meet the people who are involved.

It's always better to meet with people during a special event, like this camp. On the one hand I can see and hear of your experiences. Looking at the programme I'm disappointed I couldn't be here to watch or do some of the activities. Maybe not the mudslide though! On the other hand, this is an opportunity for me to congratulate you all and to say why this camp is such a great idea.

In my view, Camp Purple Live has provided the right environment to gain valuable experiences. At the camp you will have become more aware of what you can achieve while living with IBD and of the support networks available – peers, clinicians and LiveWire.

I'm sure you have all enjoyed having the chance to spend time with other young people who know exactly what you're going through. Isn't it great to NOT be the only person in the room dealing with a medical condition! It must be awesome to be with a group of people who understand your medical condition, people who can share their experiences and knowledge.

Also, I think it's great to have the chance to push your boundaries, to test your inner and outer strength, to have fun, make friends and learn new skills. And, to learn that having IBD doesn't have to limit your life choices.
This camp has probably been a bonus for your parents and caregivers too. They have been introduced to others in similar circumstances and learned more about how to give you their support.

In closing, I want to acknowledge the team of support staff – clinicians, nurses, presenters and others who have kept you happy, safe and busy.

I'm looking forward to finding out more about what you've been up to over that last few days. So, thank you for having me here. I'm looking forward to finding out more about your week at Camp Purple Live.