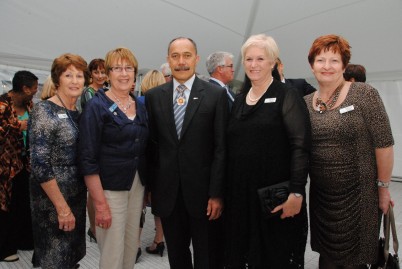 To view more images, click here
E kui mā, e koro mā, e huihui nei, tēnei aku mihi māhana ki a koutou. Nau mai, haere mai rā ki Te Whare Kawana o Tāmaki Makaurau. Distinguished guests, ladies and gentlemen, warm greetings to you all, and welcome to Government House Auckland.
It's a great pleasure for Janine and me to welcome you all to Government House to celebrate the rich contribution women have made, and are continuing to make in our communities and for New Zealand.
This year one of the themes we have been marking, at Government House, is the 120th anniversary of women's suffrage in New Zealand. Winning the right for women to vote in national elections has been a time to celebrate a ground breaking moment in the history of our young democracy, and an opportunity to reflect on the progress we've made since 1893.
At 11.45 am on the 19 September 1893, the Governor, Lord Glasgow, gave Royal Assent to the Electoral Bill that meant our women became the first in the world to gain full voting rights in nationwide elections. It was also noteworthy in that it was granted to both Pākehā and Māori women, and on the same terms as men. It meant that all New Zealanders, regardless of gender, race, position, property-ownership or marital status could vote in national elections.
To mark the 120th anniversary, all women honoured in our most recent Queen's Birthday Honours list were invited to attend two special all-women investiture ceremonies at Government House Wellington on the 18 September, and an investiture dinner the next evening – the actual anniversary. We have a number of the women honoured in those ceremonies here with us this evening, and other women honoured in the 2013 New Year's list too. I trust that your investitures were made doubly special by the significance of the anniversary.
Universal suffrage in New Zealand occurred because women – and many men – petitioned for what they saw as an essential right and the right thing to do. Under the leadership of Kate Sheppard, three petitions, each one larger than the previous one, were presented to Parliament. The final petition had the signatures of more than 30,000 women aged 21 and over. That represented nearly a quarter of adult European women in New Zealand at the time, a remarkable feat given the difficulties surrounding communications and transport in those days.
Let me remind you, there were no telephones and the like, and horses and buggies (of the horse drawn kind!) were the transport order of the day – the first motor car wouldn't be imported into New Zealand until 1898. Nonetheless, signatures were gathered by committed women on foot or horseback, slogging door-to-door and township-to-township.
The collation of the final petition was itself similarly labour intensive. Kate Sheppard herself glued the petition sheets end-on-end and rolled them around a section of broom handle! This 'monster petition' as she called it, now quite rightly sits in the Constitution Room of the National Archives in Wellington alongside the 1835 Declaration of Independence and the Treaty of Waitangi.
Auckland's women had a big role in that campaign. For example, noted activist Amey Daldy, President of the Auckland branch of the Women's Franchise League, played a vital part in ensuring that once women had the vote they were able to cast their ballots. Her message: "Let not babies, the wash-tub, or even dinners prevent the women going." And to that end she arranged for women to care for children at each booth while their mothers voted. And while Daldy's words may sound quaint, and somewhat enduring, her message hits at the heart of winning rights for women.
In giving the vote to women, New Zealand showed itself to be a world leader in supporting the right of women to participate fully in our democracy. We have stayed at the van and still lead the way in many areas. I acknowledge that Dame Jenny Shipley is here. And, I take delight in pointing out that in 2001, New Zealand was unique in that all the constitutional roles – Head of State, Governor-General, Prime Minister, Leader of the Opposition, Attorney-General and Chief Justice – were all filled by women.
It's not just in national politics that women have trail blazed. There have been trailblazers in local government like Elizabeth Yates for example. She was the first lady mayor in the British Empire when she became Mayor of Onehunga in 1893. As an aside, while Her Worship received messages of congratulations from Queen Victoria and Premier Richard Seddon, her male colleagues weren't so enthused. Four councillors and the town clerk resigned in protest!
New Zealand women have also excelled as entrepreneurs, in academia, in the judiciary, in sport, in the arts and indeed in every field of endeavour. Many have been instrumental in building some of our most valued organisations like Plunket, Women's Refuge and the Māori Women's Welfare League. Indeed earlier this week, two young New Zealand women excelled in the international arena. Ella Yelich-O'Connor – aka Lorde - won the Silver Scroll reflecting her song Royals being Number 1 on the US Billboard Hot 100 list, and Eleanor Catton won the 2013 Man Booker Prize for her historical novel The Luminaries.
Ladies, you have all been invited here tonight because in your own right, and as representatives of women, you are making a difference. Like the women who signed that petition in 1893, you represent people from all walks of life, all denominations, and all occupations. You are from the world of business, the world of politics, the world of community service, and the world of art. And, like Kate Sheppard and her supporters, you all have something else in common – the desire to contribute and make change for the better in our society, for girls and boys.
To close, I think it appropriate to quote Kate Sheppard, who saw suffrage as part of a wider campaign to gain an equal footing in society for women. She said:
"We are tired of having a 'sphere' doled out to us, and of being told that anything outside that sphere is 'unwomanly'. We want to be natural just for a change…we must be ourselves at all risks."
May you all continue to be true to yourselves as we all, women and men, continue to make our society a better one for those that follow after us.
Thank you for accepting our invitation and I trust you enjoy your time here with us this evening, and the hospitality of the house.
Before we finish this formal part of the reception, I want to introduce Michaela Clark, who yesterday was named the Dame Pat Evison scholar, and who will sing a song for us.
Last updated:
Thursday, 17 October 2013