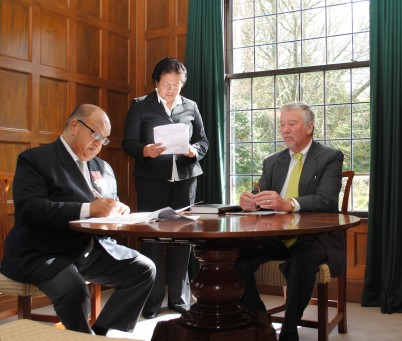 I begin by greeting everyone in the languages of the realm of New Zealand, in English, Māori, Cook Island Māori, Niuean, Tokelauan and New Zealand Sign Language. Greetings, Kia Ora, Kia Orana, Fakalofa Lahi Atu, Taloha Ni and as it is the morning (Sign)
I then specifically greet you: Chief Justice Patrick Savage; Your Excellency Sisilia Grace Tupou Talagi, High Commissioner for Niue to New Zealand; Distinguished Guests otherwise, notably Your Honour Chief Judge of the Māori Land Court Wilson Issac; Ladies and Gentlemen.
Thank you for joining my wife Susan and I for this ceremony at Government House Vogel to swear in Judge Savage as the Chief Justice of Niue.
This morning is a happy repetition of events three years ago because in September 2007, I had the honour to appoint two new Judges of the High Court of Niue. They were Your Honours Patrick Savage and Wilson Isaac.
Today's ceremony reinforces the long-standing relationship between the judiciary of Niue and the Māori Land Court. Your predecessor in office as Chief Justice of Niue was His Honour Heta Hingston who was, for many years, a Judge of the Māori Land Court.
Secondly, the ceremony underpins my role, as Governor-General of New Zealand, and also as Governor-General of Niue. It is for that reason that whenever I speak in public, I greet people in all the languages of the Realm of New Zealand, of which Niuean is one.
Thirdly, the ceremony reminds us of the special relationship between New Zealand and Niue. Since 1974, Niue has been self-governing in free association with New Zealand. As I mentioned when I visited Niue in April 2007, the relationship has continued to evolve. It is much more than citizenship that the people of Niue and New Zealand share. It is a bond of family, of history and of vision for a shared future.
Finally, today's appointment reflects the respect that the Government of Niue has for your experience and abilities as a lawyer and judge. Your service has included work on the Waitangi Tribunal and, prior to your appointment to the Māori Land Court in 1995, as a legal practitioner in Auckland and as Crown solicitor for the Bay of Plenty. As Governor-General of Niue and of New Zealand, I congratulate you this appointment and wish you a long and satisfying term in office.
I began speaking in all the New Zealand realm languages. I will now close in Māori, by offering everyone greetings and wishing you all good health and fortitude in your endeavours. No reira, tēnā koutou, tēnā koutou, kia ora, kia kaha, tēnā koutou katoa.
To view images from the ceremony, click here
Last updated:
Friday, 10 September 2010