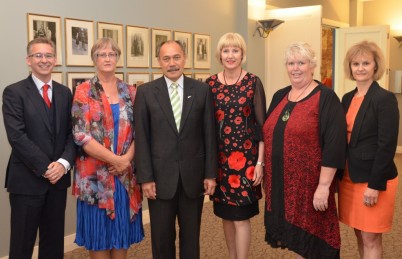 E kui mā, e koro mā, e huihui nei, tēnei aku mihi māhana ki a koutou. Kia ora tātou katoa. Nau mai, haere mai rā ki Te Whare Kawana ki Tamaki Makaurau.
Distinguished guests, ladies and gentlemen, warm greetings to you all. Welcome to Government House Auckland.
I specifically acknowledge: Robyn Kiddle and John Robson, Chief Executive and National Board Chairman of the Child Cancer Foundation respectively and the Child Cancer Foundation Honorary Life members present today - tēnā koutou katoa.
It is a great pleasure for Janine and me to welcome you all to Government House this afternoon. Today is a very special one as we honour the commitment and dedication of two people who have given their time and talents to make a real difference in their communities.
The last Child Cancer Foundation Honorary Life Membership Awards were presented by my predecessor Sir Anand Satyanand at Government House in Wellington over 6 years ago – July 2008 to be precise. This gap underlines that these life memberships are not presented often and are an indicator of someone who has provided great support to the Foundation over a long period of time. Today we recognise the service given to the Child Cancer Foundation by Julia Hayward and Catherine Mott and formally acknowledge their contribution.
There's nothing more heart breaking than a sick child. Like most parents, Janine and I have been lucky that our children have been mostly healthy. We have tended to broken bones, small surgical procedures and coughs and colds.
Others are not quite so fortunate. Every week, three New Zealand families are faced with the reality that the illness their child is suffering will not clear up with a course of antibiotics and a few days, or even weeks, of bed rest. They and their child are about to be plunged into the frightening, uncertain and often confusing reality of living with cancer.
I think it is fortunate that for more than thirty years, the Child Cancer Foundation has been helping these families cope; and providing them with support, resources and hands on help. The Foundation does this without funding from Government or other cancer support agencies. Instead it relies solely on the generosity of New Zealanders, including the many volunteers who give of their time and effort freely to get the work done.
Julia Hayward and Catherine Mott exemplify the value volunteers give to organisations like the Child Cancer Foundation. Both have been active with the organisation for more than 20 years. In that time they have shown themselves to be powerhouses of organisation in terms of their local branches; as well as great sources of compassion and comfort for families and children alike.
The awarding of these Honorary Life Membership awards to these two women reminds us of the beginnings of the Child Cancer Foundation. The organisation started with concerned parents and health professionals coming together. Julia, as a parent who lost a child to cancer and Catherine, a nurse with a background in paediatric oncology show how these two groups still work together for the greater benefit of all.
The citations prepared for each of them show us the different ways they have supported the work of the Child Cancer Foundation in their individual communities – Julia's focus on bereaved families and Catherine's as the driver of the formation of her local branch are atypical and yet typical too! Both have shown compassion, concern and love for others who are going through difficult times with no guaranteed positive outcome.
I am reminded of the words of English pastor David Thomas who said, "Unselfish and noble actions are the most radiant pages in the biography of the soul". I think both of you have added some very bright pages to your own stories over the last 20 years.
Julia and Catherine, I thank you both for your service to the Child Cancer Foundation and to your community. This recognition is well deserved and your work stands as a positive example for others.

Kia ora huihui tātou katoa